The wealth of individuals in the country is expected to double to Rs 179 lakh crore (Rs 179 trillion) in the next four years, according to a report by Karvy Wealth.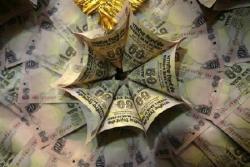 "The wealth in the hands of Indian individuals continues to grow at a decent pace," financial services company Karvy's chief executive and group head (wealth management) Hrishikesh Parandekar told reporters.

The report says the individual wealth in the country grew to Rs 92,26,090 crore (Rs 92.26 trillion) as on March 2012 from the year-ago's Rs 86,49,764 crore (Rs 86.49 trillion).

It will double to Rs 179 lakh crore in the next four years and grow to Rs 214 lakh crore (Rs 214 trillion) the next year, the report said.

Direct equity
will continue to be the largest asset class, while insurance and fixed deposits and bonds will be joint second, it said.
By FY 17-end, direct equity will form 28.7 per cent of total assets, up from 25.4 per cent in FY 12, which reflects the increase in confidence of investors, the report said.
In the year gone by, the proportion of debt as an asset class for investments grew sizeably due to the volatile equity markets, it said, adding that debt instruments constituted for 72.3 per cent of the investments from 67.9 per cent a year-ago.
This was primarily driven by reduction in equity from 31.8 per cent to 27.4 per cent, it said.
Within debt, bank fixed deposits constituted the highest component at 94.42 per cent or Rs 21,82,666 crore (Rs 21.82 trillion) invested in FY 12, it said.