The lower quarterly profit was mainly due to rise in fuel costs, foreign exchange loss and lower yield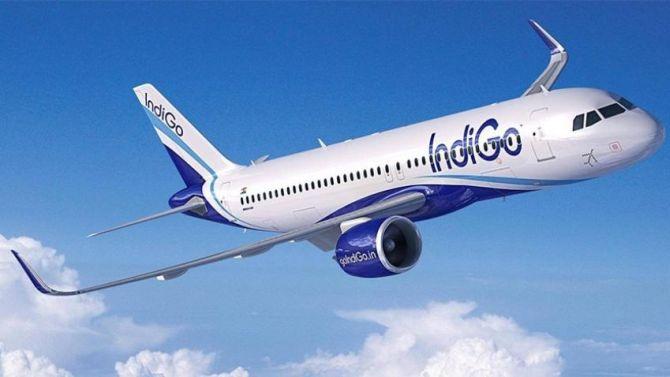 IndiGo's parent InterGlobe Aviation on Wednesday reported 73 per cent plunge in profit after tax (PAT) to Rs 117.64 crore for the March quarter as higher fuel costs and foreign exchange loss took a toll on its bottom line.
The leading no-frills carrier, which last week announced the sudden departure of its president and whole time director Aditya Ghosh, had a PAT of Rs 440.31 crore in the year-ago period.
However, the company's total income in the fourth quarter of 2017-18 climbed 17 per cent to Rs 6,056.84 crore. It was Rs 5,141.99 crore in the year-ago period, according to a regulatory filing.
The budget airline -- which had to cancel hundreds of flights in March due to engine issues with some of its A320 neo planes powered by Pratt & Whitney engines --recorded a significant rise in its total expenses in the latest fourth quarter.
The lower quarterly profit was mainly due to rise in fuel costs, foreign exchange loss and lower yield, IndiGo's chief financial officer Rohit Philip said during a conference call to discuss the financial results.
For the financial year ended March 2018, the company's PAT jumped to Rs 2,242.37 crore from Rs 1,659.19 crore in 2016-17.
Its total income stood at Rs 23,967.74 crore for last fiscal, compared to Rs 19,369.57 crore in 2016-17. These numbers are on a consolidated basis.
"We have reported our highest ever annual profits for fiscal 2018. We continue to execute on our growth plans and are putting in place the management team to execute our plans," IndiGo co-founder and interim CEO Rahul Bhatia said.
Further, he said the flight cancellation rate was higher in March due to issues with some of the neo planes.
"India is severely under penetrated market... We are cognisant of challenges we face and are taking steps to address them," Bhatia said, adding that the engine issues would take some time to get resolved.
"There are certain issues with neo engines... The issues will take some time to get resolved," he said.
In the next four to five months, IndiGo plans to fly to five new destinations, including Dhaka.
"We continue to seek route rights and other necessary regulatory approvals as may be required to operate long haul flights," Bhatia said.
The full year results include certain credits received from manufacturers to offset some of the impact of aircraft grounding and delivery delays, the airline said.
As it moves ahead with ambitious expansion plans, the airline expects to add six more aircraft by the end of 2018. It had a fleet of 159 planes at the end of March.
For the current fiscal, the company said that "year- over-year capacity increase in ASKs (Available Seat Kilometres) is expected to be 25 per cent".
In the June quarter, it expects the capacity increase in ASKs to be around 18 per cent.
At the end of March, the company had a total debt of Rs 2,452.72 crore related entirely to aircraft.
The board has recommended a dividend of Rs 6 per share for 2017-18 financial year.
Philip stressed that there would be no change in business model with introduction of turbo prop operations and potentially wide-bodied operations.
"The key is to have the right cost structure in each market... In terms of the cost structure, we also have A321s coming into our fleet this year. It has all the commonalities with A320s but it will have more seats. We will continue to manage our costs tightly and additional operations won't affect that," he said.
The company's stock price dropped nearly 4 per cent to close at Rs 1,348.25 on BSE.
The results were announced after the market hours.
Photograph: PTI Photo