Airline to deploy around 50 planes in the next seven months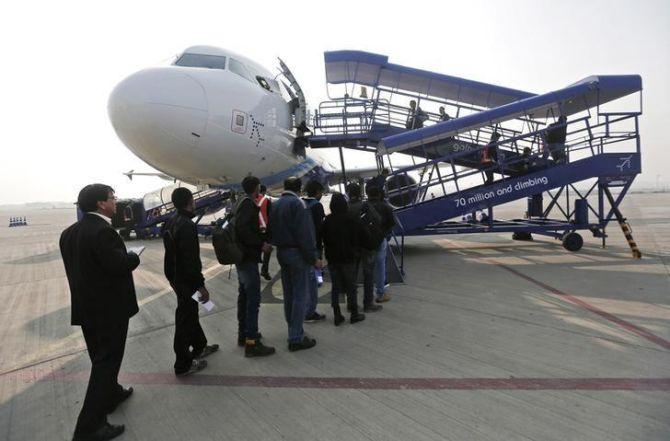 IndiGo is asking its pilots to forfeit holidays as crew shortage poses a hurdle in the carrier's expansion plan.
India's largest airline is offering a bonus of up to Rs 330,000 and will increase the annual privilege leave as it prepares to deploy 50 more aircraft in the next seven months.
"As you may be aware, the induction of new aircraft is now reaching one of the most rapid and aggressive phases of this year's plan. In order to maintain the momentum of our commercial plan, pilots will be given an option to offer their leave in lieu of compensation," Ashim Mitra, senior vice-president, flight operations wrote in an internal memo reviewed by Business Standard.
According to the memo, Airbus A320 commanders, who give up 28 days of leave, will get an additional payout of Rs 330,000, along with the salary for 28 days.
The scheme would be in effect from October to March and the bonus payment will be made at the end of March.
Recently, Irish low-cost carrier Ryanair offered a similar offer to its pilots following cancellation of multiple flights due to pilot shortage.
A senior IndiGo official said the airline had accelerated its aircraft induction after the malfunction with Pratt and Whitney engines, which had slowed down its capacity induction.
"The airline will deploy around six aircraft every month; this is quite an aggressive fleet induction plan. Getting trained hands have become difficult. This is a temporary step and it happens across the world," said an IndiGo executive.
To tide over the crisis, IndiGo has also dispatched recruiters to Latin America and West Asia - areas where embattled airlines are cutting costs and laying off pilots.
Roadshows are being conducted in Brazil, Istanbul and Dubai, where the pilots are being offered perks such as commuting roster, accommodation allowance, besides a salary of $14,655 a month.
The extraordinary measure taken by IndiGo highlights the lack of trained pilots in the world's fastest-growing aviation market.
While the Indian airlines are flooded with young recruits, IndiGo is finding problems to retain its commanders.
The problem has become so acute that IndiGo last year persuaded Directorate General of Civil Aviation (DGCA) to impose a new rule; commanders will have to give a year's notice before they leave their jobs.
An IndiGo spokesperson said the airline had set up a long-term plan to train pilots with basic commercial flying licence and upgrade them as commanders.
"After a rigorous screening, the company inducts these commercial pilot licence holders and gives them a five-month training to operate A320 and ATR aircraft as first officers.
"By the end of the fourth year, pilot gains the required experience to become captain on the A320 aircraft.
"It means, in four years from now, we will have the ability to upgrade 500 captains on A320 and 50 captains on the ATR fleet," the spokesperson said.
Commercial pilot licence holders need to undergo three-six months training before being selected as first officer.
The licence test for the rank of commander requires a minimum of 1,500 hours of flying.
A first officer can be upgraded to the rank of commander in anywhere between three-six years, depending upon the airline's training requirements and would have at least flown 2,500 hours.
Photograph: Adnan Abidi/Reuters