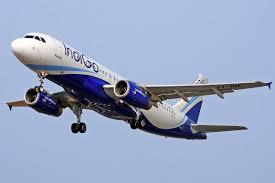 IndiGo's holding company InterGlobe Aviation, which has reportedly been in talks with bankers for an initial public offering this financial year, has approached the Foreign Investment Promotion Board.

Industry sources say the airline has approached the FIPB to give an undertaking to the government that the foreign stake in the company will not exceed 49 per cent even after the IPO.

Currently, overseas investor Rakesh Gangwal holds 49 per cent stake in the airline. The remaining 51 per cent is held by Rahul Bhatia.

Foreign direct investment norms in aviation cap foreign holding in domestic airline companies at 49 per cent. IndiGo, it is said, is looking to raise around $400 million through the IPO.

The airline's approaching the FIPB has also raised speculation in the market about the airline looking at a possible stake sale to a West Asian carrier. However, this could not be confirmed
from the airline.
Messages and emails sent to senior executives and the spokesperson of the airline remained unanswered till the time of going to press.
Speculation regarding a possible stake sale to a foreign airline surfaced as Qatar Airways CEO Akbar Al Baker said in May this year that he was interested in entering the Indian airline market, and would be keen for an association with IndiGo.
"We are always open to opportunities in India. We would be very interested in IndiGo if there's something available there.
"But the airline is performing very well, so I don't think they would be interested," Baker had said.
IndiGo had at the time declined to comment on Baker's remarks.
IndiGo is the only airline making profits in the Indian aviation industry.
Aviation advisory firm Centre for Aviation Pacific Aviation estimates the airline to report revenues of around Rs 11,000 crore (Rs 110 billion) and profits of Rs 350-400 crore (Rs 3.5-4 billion) for the last financial year.