More than 90 per cent of India's population belongs to the base tier (less than $10,000, or about Rs 730,000) when it comes to the distribution of wealth.
Illustration: Uttam Ghosh/Rediff.com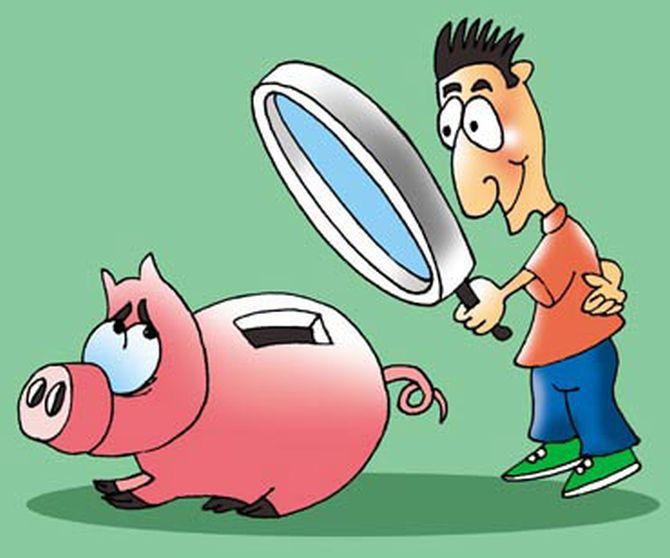 The latest global wealth study by Credit Suisse highlights the lopsided growth in India, the world's fastest-growing major economy.
While the country ranks sixth globally in terms of ultra-rich population - those with wealth in excess of $50 million - it is also one of the highest contributors to the world's adult population with base-tier wealth (less than $10,000, or about Rs 730,000).
More than 90 per cent of India's population belongs to the base tier when it comes to the distribution of wealth.
In comparison, a third of China and only 28.4 per cent of the US' adult population belong to this segment.
"Residents of India remain heavily concentrated in the bottom half of the distribution.
"However, the country's high wealth inequality and immense population mean that India also has a significant number of members in the top wealth echelons," says Credit Suisse Global Wealth Report 2018.
The mean wealth in India is estimated at $7,020 per adult, while the median wealth is even lower at $1,289 per adult.
India has an adult population of 850 million, second only to China, which has 1,085 million.
However, the mean wealth per adult in China is $47,810 and the median wealth is $16,333, the report says.
For the 12 months to June 2018, India's wealth grew at a modest pace of 2.6 per cent to $6 trillion.
On the other hand, global wealth grew by 4.6 per cent, or $14 trillion, to $317 trillion.
Slower growth in India was on account of the weakness in domestic currency.
For the period under consideration, the rupee depreciated by six per cent against the dollar. In constant currency terms, growth in India's total wealth was a respectable 9.7 per cent.
An Oxfam report earlier this year had said 73 per cent of the wealth generated last year went to the richest 1 per cent, while 670 million Indians who comprise the poorest half of the population saw 1 per cent increase in their wealth.
According to Credit Suisse, around 90 per cent of India's household assets comprise property and other non-financial items.
Meanwhile, the number of ultra-rich - those with wealth of over $50 million - stood at 3,400 - the sixth highest in the world after the US, China, Germany, UK and Japan.
According to the wealth study, among major economies, India had one of the highest proportion of female billionaires at 18.6 per cent.
However, the women's share of wealth in India was significantly lower (between 20-30 per cent) compared to global average of 40 per cent.
In the past 12 months, the US made the highest contribution to the global wealth growth.
It added $6.3 trillion, taking its total wealth to $98 trillion. US' total wealth and the wealth per adult have increased every year since 2008.
China's wealth rose by $2.3 trillion to $52 trillion. China's wealth is projected to grow by a further $23 trillion in the next five years.
Its share of global wealth is projected to increase from 16 per cent in 2018 to more than 19 per cent in 2023.