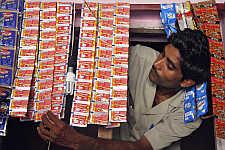 People in rural India are spending more than those in urban areas, according to a study by Accenture, a multinational management consulting, technology services and oil company.

There is no question that Indian rural markets have become a powerful economic engine, says Sanjay Dawar, below, left, Managing Director, Management Consulting, Accenture, India.

Companies must find new ways to promote their products and establish credibility in rural markets, he tells Rediff.com's Faisal Kidwai in an interview.

In a recent study, Accenture has said that more than two-thirds of companies doing business in India plan to rapidly accelerate the expansion of their businesses in rural markets. Why are rural markets becoming attractive?

Rural markets are becoming attractive for a number of reasons. Since 2000, per capita Gross Domestic Product has grown faster in India's rural areas than in its urban centres: 6.2 per cent CAGR (compounded annual growth rate) versus 4.7 per cent. Rural incomes are growing, and consumers are buying discretionary goods and lifestyle products, including mobile phones, television sets and two-wheelers.

Between 2009 and 2012, spending in rural India reached $69 billion, significantly higher than the $55 billion spent by the urban population. The rush to rural markets is not a recent phenomenon and companies have been testing these markets for some time.

Successful companies, whom we refer to as Rural Masters, have used innovative techniques to reach the rural consumers and scale operations profitably.

All this while, Rural Masters have worked very closely with the rural diaspora and have spent a number of years to understanding the rural consumer's attitudes and behaviours. They have been tweaking their operating model; in some cases using a combination of different channel strategies to effectively reach the rural consumer.

Rural Masters demonstrate consistent streaks of innovation in how they reach, acquire and retain the rural consumers, which has helped them capture the minds and wallets of the rural consumers.

Are you seeing this expansion across the board, or is it limited to certain sectors and industries?

The expansion to rural is not restricted to a particular sector. Companies from FMCG, healthcare, banking and finance and auto and telecom have expanded their operations to rural areas.

Could you tell us a bit about the growth in rural markets compared to urban areas?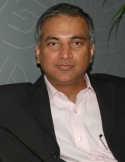 Today, a staggering 12 per cent of the world's population resides in India's rural areas. There is no question that India's rural markets have become a powerful economic engine. The rural multiplier effect is what excites policy-makers and business leaders alike. For every new opportunity for a villager to use his mobile phone to protect his crops, there is a knock-on opportunity for him to purchase a small refrigerator or a motorcycle.

There is a growing realisation that global investment and growth will increasingly come from rural populations, as their savings translate into consumption. But rural India's contributions to the nation's economic success -- and the obvious potential for profitable growth -- are just a part of the promise of wholehearted commitment to doing business beyond the city centres and suburbs.

India's rural markets present opportunities that companies seeking to become high-performance businesses cannot afford to ignore. But the size and scale of those markets (three-fourths of the country's about 1.1 billion population lives in villages) have been offset by concerns about the profitability of these markets and the durability of rural demand.

What are the major challenges companies face in rural markets?

The challenges faced by companies in expanding operations in rural markets can broadly be classified into three categories: reaching the rural customers, acquiring them, and retaining these acquired customers.

Reaching rural customers: Rural markets are geographically dispersed and lack adequate physical and social infrastructure. As a result, the distribution of goods and services to and from villages is extremely difficult and costly.

A significant number of respondents to our survey cited "high cost-to-serve the rural markets" as the number one challenge: more than 50 per cent listed it as one of the top three challenges they face. When asked about the relative investment required to sell in rural versus urban markets, 52 per cent reported that the required monies for rural markets was higher.

The deficits in the rural market infrastructure and lack of established supply chain networks shoot the logistics cost through the roof. Therefore, more than 60 per cent of the survey respondents reported higher logistics costs. Recruiting and selecting channel partners is another facet of the challenge to reach the customer.

Companies seek partners that can understand their objectives and connect with target customers in rural markets. Partners' lack of operational scale often puts their effectiveness in question. Operating in rural markets demands innovative channel management solutions beyond traditional or urban approaches. It therefore doesn't come as a surprise that more than 40 per cent of the companies in our survey consider this as a critical challenge.

Acquiring rural customers: Due to the advent of television and mobile phones, the rural customer is privy to the information about products and services. A few businesses realise this fact. To acquire these consumers, businesses need to develop compelling value propositions. As rural consumers become more demanding, companies must meet those demands with skilled sales people.

The sales skills required for rural markets differ markedly from those needed in urban areas. Interpersonal skills and the ability to operate in complex, closely knit communities, where purchase decisions are based heavily on personal bonds and mutual trust, are hallmarks of successful sales people.

However, finding qualified sales staff is a major hurdle in rural markets -- 38 per cent of survey respondents identified sales force competency as a key challenge. Rural customers can also be sceptical about businesses and their products. Given the strong social fabric in rural areas and the pivotal role it plays in influencing purchase decisions, companies must find new ways to promote their products and establish credibility.

Companies must also contend with the seasonality of rural market demand and consumer dependence on credit. Most rural incomes depend on agricultural cycles, and demand for goods and services fluctuate accordingly. Seasonality also fosters dependency on credit, as incomes fluctuate along with seasonal cropping patterns. Retailers, in turn, seek credit from businesses, placing additional demands on established financial models and working capital cycles.

Retaining rural customers: With increasing rural competition and high cost-to-serve, customer retention is emerging as a major challenge. To boost retention, companies must provide satisfying experiences across the customer lifecycle and generate positive word of mouth. But, providing reliable and consistent after-sales service and optimising the costs of a high-quality experience remain major obstacles.

Today, companies are leveraging data analytics to forecast product demand to assess the attractiveness of a given market. However, rural markets have limited data on consumer demographics, behaviours, preferences and perceptions, and these limitations thwart rational sales planning.

What should the government and private sector do to remove these hurdles?

The government is acting as an enabler for companies looking at venturing into rural markets. But, since the rural areas are greatly fragmented, it will still take us a couple of years for getting a smooth connectivity that will help companies reach the rural customer effectively. Still, there is more both parties can do. The government and private sector can create a win-win situation by working together, pooling the resources and local market knowledge, which will be very critical to make any rural business profitable and sustainable in the long run.

However, despite many difficulties some companies have had successes in the rural markets. Successful companies whom we refer as Rural Masters adopt a multipronged approach to reach the rural fragmented markets. They mix and match their channel strategies as needed -- switching among strategies that may include a centrally directed hub-and-spoke model and a reliance on village entrepreneurs, or "feet on the street".

Companies are also adopting channels that are mostly used in urban markets. E-commerce is a prime example. According to the eBay India Census, one out of every 10 purchases, and one out of every 20 sales, are from rural India, with almost 1,270 rural hubs transacting online.

In the future, the online channel can become a game-changer for companies trying to access rural markets. It can provide a cost-effective means to extend a company's reach exponentially by overcoming geographic barriers. Rural Masters identify specific customer segments -- clusters of villages and consumer groups -- they want to target for penetration.

A few big clusters centered in four or five large states can have the same market potential as a large number of clusters dispersed across the country. Setting priorities helps leading companies deploy sales people effectively and tailor their marketing strategies. They use detailed market scanning and segmentation to understand important nuances across clusters and spot the best opportunities.

Rural Masters work hard to engage their partners and keep them loyal. They start by demonstrating their commitment to building mutually beneficial relationships. Many provide training to their partners. For example, they may teach them advanced selling and promotion techniques.

These are some of the things that companies do differently to succeed in rural markets.
Image: A salesman adjusts sachets of Colgate products inside a shop in the village of Hargaon, Uttar Pradesh