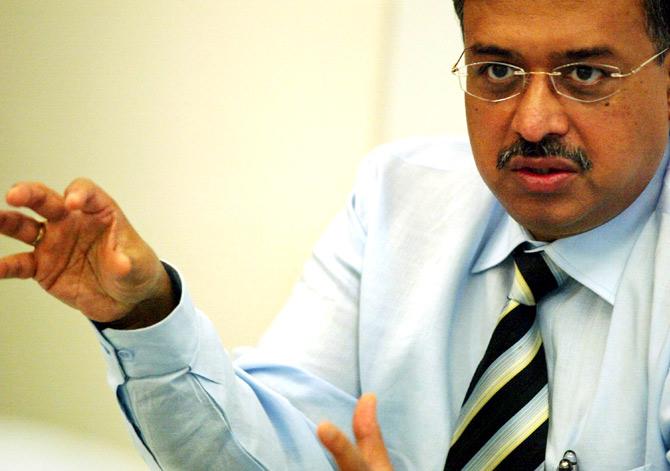 How well do you know Dilip Shanghvi, who has emerged as India's richest man on the basis of market cap?
Sun Pharma's Dilip Shanghvi on Wednesday toppled Reliance Industries chief Mukesh Ambani as India's richest person, with the shares of Sun Pharma and Sun Pharma Advanced Research Company, or Sparc (Sun Pharma's research and development arm), closing at record highs.
At current prices, Shanghvi is valued at Rs 1.39 lakh crore ($22.4 billion), while Ambani is worth Rs 1.38 lakh crore ($22.2 billion).
Apart from interesting mergers and acquisitions by Sun Pharma, not much is heard or read about its media-shy owner.
Here are a few interesting nuggets about the man of the moment:
Shanghvi earned a Bachelor of Commerce degree from the University of Calcutta. He did his schooling from Kolkata's J J Ajmera High School and graduation from Bhawanipur Education Society College, Kolkata.
Shanghvi started as a pharmaceutical products wholesaler in Kolkata. His father had a wholesale generic drugs business and Shanghvi used to assist him. It was during his work as a drugs distributor that he thought of making it his own.
He had only Rs 10,000 as capital when he started Sun Pharma at Vapi, Gujarat, in 1983. He worked with just five staff and used to manufacture psychiatry medications.
Shanghvi tasted success in the very first year. He did business of about Rs 700,000.
Sun Pharma started making cardiology products in 1987 followed by gastroenterology products in 1989.
His takeover of Caraco Pharma in 1997 was not seen as a worthy move by experts as the company was then running at a loss. Through his efforts, the loss-making company is now making money.
With the takeover of Milmet Labs, Sun ventured into ophthalmology. In 1987, the company ranked 108th at the national level. Now, it is 6th!
Under Shanghvi's aegis, Sun has bought over 16 companies. It acquired Ranbaxy Labs for $4 billion in 2014 to become the world's fifth-largest pharma company.
A humble and a shy man, Shanghvi does not like the limelight much. "I look at myself as a manager, there is a lot to learn from everybody," he was quoted as saying in an interview to a newspaper recently. His wife, Vibha, occasionally travels to the local market in an auto rickshaw.
He gave up his position as chairman of Sun Pharma in 2012 in favour of Israel Makov, former president and chief executive officer of Teva Pharmaceutical.
According to a report in the Economic Times, a peer from Lupin once caught him in flight reading Harry Potter. Shanghvi is known to have read all the seven fantasy novels written by the British author, JK Rowling.
Shanghvi loves South Indian food. Mysore Cafe and Madras Cafe at Matunga are known to be his favourite foods joints in Mumbai.
His son, Aalok, is the general manager at Sun's international business.
In his first major move outside pharma, Shanghvi struck a $300 million deal in February for a 23 per cent stake in debt-laden wind power firm Suzlon.
Image: Dilip Shanghvi; Photograph: Adeel Halim/Reuters