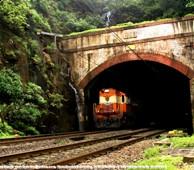 India's longest railway tunnel, which will realise the dream of connecting Kashmir with rest of the country by train, will be made operational next year.

The 11-km-long tunnel, passing through the Pir Panjal mountain range, will link Qazigund in Kashmir with Banihal in Jammu region.

"We are hopeful that Banihal-Qazikund rail line consisting the longest tunnel in the country will be commissioned by December 2012," Northern Railway chief administrative officer Chahatey Ram said.

Austrian tunnelling method, the latest tunneling technology and first used in the country for the Delhi Metro, is being used for construction of the tunnel, named T-80.

The method involves integration of surrounding soil formations into a ring-like support structure.

On completion, T-80 will be Asia's second-largest tunnel, next only to the 20-km Wushaoling tunnel in Gansu, China.

The 6.5 km Karbude tunnel of the Konkan Railway is India's current longest.

"The work is almost completed. . . . Ircon, the executive agency of the project, has completed 10,316 metre work which is 99 per cent of the total length of the tunnel and now the rail line will be laid," Ram said.

The Banihal-Qazigund project is part of the 345-km-long Jammu-Udhampur-Katra-Qazigund-Baramulla railway line, the biggest mountain railway construction project since Independence.

While the 53-km Jammu-Udhampur section was opened to public in 2005, the 119-km Qazigund-Baramulla route has been made operational in 2009.

The Banihal-Qazigund is part of the 129-km-long Katra-Qazigund rail line.
While the Banihal-Qazigund is expected to be operational by 2012, work on the entire Katra-Qazigund is expected to be completed by 2017.

Terming the work as challenging, Ram said, "We are making the rail line operational in phases due to various problems. The work is really a very challenging one because of the fragile geology and steep topography."

The Railways has spent Rs 7,165 crore (Rs 71.65 billion) on the Kashmir rail link project till now.

The Katra-Qazigund link is an engineering challenge and the project involves construction of 13 tunnels, 62 small and big bridges and 11 railway stations.
"There were no approaching roads to the site. So we are making approaching roads first and the work on tunnelling and laying rail line will commence next," he said.

Besides Banihal-Qazigund, Katra-Udhampur rail line will also be made operational by 2012.

"There were seepage problems in two tunnels which caused delay in completing Katra-Udhampur line. The problems have been rectified and the line is expected to be opened to public in 2012," he said.