Post DeMo and GST, business outlook remain diminished among both buyers and sellers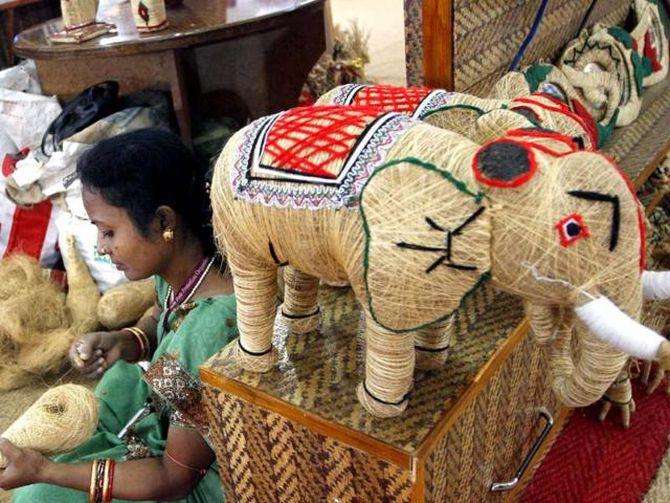 One year after demonetisation and more than four months after the Goods and Services Tax (GST) regime was rolled out, India's largest trade fair has begun under a pall of anxiety with business outlook remaining diminished among both buyers and sellers.
As a result, both domestic and international sellers continue to keep their fingers crossed at the 37th India International Trade Fair, which was inaugurated on Tuesday and which opened its gates fully to business visitors from Wednesday.
The price of tickets for general visitors has been kept low at Rs 60 on weekdays for adults and Rs 120 on weekends while business visitors have to pay Rs 500 each.
Remaining same as last year, this has ensured that people continued to stream in, albeit in low numbers, throughout the day.
But while the fair is set to run till November 27, stall owners started expressing disappointment by early evening on Wednesday as business was slow.
"We have not received a single business enquiry till now and the first two days generally see a lot of action," Deepak Sandilya, marketing head at a Hyderabad-based plastics manufacturer, said.
Buyers were not far behind. Nikunj Shah, owner of a mid-sized bottling plant in West Delhi who visited the fair on Tuesday to source equipment for his factory, said his procurement kitty had substantially reduced this year owing to a severe shortage of working capital due to the GST.
This refrain was common among a majority of repeat customers in the small and medium enterprises segment who come to the fair hunting for new technologies and improved marketing channels.
However, an official from the Indian Trade Promotion Organization (ITPO), which organises the event, said the government expected more people to troop in this time around.
But traders said footfalls were not the issue last year as well.
This was due to the fair beginning just 10 days after demonetisation was announced on November 8, blindsiding traders.
While footfalls had crossed 1.4 million by the end, business was affected because bulk buyers had given the fair a miss.
The government had then swung into action and erected 18 ATMs inside the premises.
None of the three ATMs in the sprawling campus were functional on Wednesday.
While most stalls accepted cards, many did not have card swiping machines or complained of poor Internet connectivity.
This time, however, the main issue has been space as the government's decision to undertake a massive upgradation project to change the face of Pragati Maidan, the historic venue venue for the fair, has meant that most halls have been demolished. According to official statistics. the display space has shrunk by more than 45 per cent.

As a result, the Start Up-Stand Up themed fair started with a lower number of participants than the peak 7,000 participants seen last year.
"We have tried to keep the rent the same as last year but due to the dynamic market-driven approach we follow, less space and high demand has meant that prices have increased," the senior ITPO official mentioned above said.
The international exhibition-cum-convention centre, a state-of-the-art facility that is expected to replace the current facilities, will have automatic pathways and environmental sustainability ratings, visitors are reminded by giant hoardings as one enters the fair.
Till then, however, a significant amount of dust and a roundabout entry route meant most visitors were tired by the time the first hall came in sight.
As always, the international pavilion drew the maximum footfall.
This time, firms and government agencies from 18 nations have showcased themselves. Vietnam, which is the 'Partner Country' and the Kyrgyz Republic, the 'Focus Country', have managed to command the largest stalls.
Left complaining have been Bangladesh and Myanmar, whose traders look forward to brisk sales in Delhi every year.
"Our delegation has reduced by half owing to low space available," said Sariful Ali, a manufacturer of sarees from Tangail, Bangladesh.
Kamran Shafi, a wholesaler of dry fruits from Herat, Afghanistan, and Wang Nieng, the general manager of a turbine manufacturing company based in Hebei, China, said they have brought fewer products to showcase this year.
With space commanding a premium, small sellers from across the country who generally find a place in the pavilions of various states have been hit the most.
Several delegations were seen sitting morose at their stalls, reminiscing of yesteryears when most large states had their own permanent pavilions.
Subimal Das, a seller of premium varieties of rice from West Bengal, said even as he has had to accept a smaller stall with lower visibility, his rent had gone up.