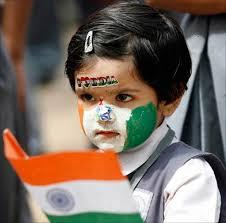 India's annual infrastructure output growth slowed to a four-month low of 1.4 per cent in February, mainly dragged down by a contraction in the production of steel, fertilisers and refinery products, government data showed on Tuesday.
The output had expanded 1.8 per cent year-on-year in January.
The infrastructure sector, which comprises coal, crude oil, oil refining, natural gas, steel, cement, electricity and fertilisers, accounts for 37.9 per cent of India's industrial output.
Image: A schoolgirl, with her face painted in colours of the Indian national flag, holds a flag. Photograph: Reuters