WGC expects demand to revive in H2 on surplus monsoon rains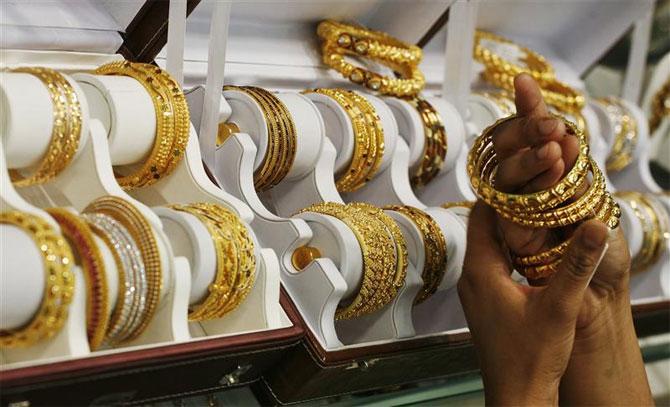 The Jewellers' strike that extended into April, elevated price levels and regulatory norms that pushed for transparency through Permanent Account Number (PAN) cards saw consumer demand for gold in India drop 18 per cent year-on-year (y-o-y) to 131 tonnes in the June quarter of calendar year 2016 (Q2), says the latest World Gold Council (WGC) report.
Besides India, China (down 14 per cent) and West Asia (down 20 per cent) were the other regions that witnessed a drop in consumer demand for gold in the same period.
In value terms, the demand at Rs 35,500 crore in India registered a fell of 8.7 per cent year-on-year. The total demand for jewellery (97.9 tonnes) and investment (33.1 tonnes) was also lower by 20 per cent and 12 per cent, respectively. Official gold imports, the report says, were the lowest since the December quarter of 2013.
India's gold demand falls 18% in Apr-June The jewellery market in India, according to WGC, faced three key issues - a 27 per cent jump in average gold price (rupee terms) to around Rs 30,000/10 grams (gm), weaker rural incomes and stringent regulation.
"This quarter, too, was a truncated period for sales as the jewellers' strike extended into April and remained more or less effective till Akshay Tritia, when sales saw a brief boost. However, elevated price levels and a regulatory push for transparency through PAN cards, tax collection at source and excise duty on jewellery coupled with weaker rural incomes kept the demand subdued," says Somasundaram PR, Council's managing director, India.
For the full year, WGC pegs total gold demand to be in the range of 750 – 850 tonnes (863 tonnes in CY15). During the first six months of CY16, the total demand for gold saw a 9.7 per cent jump over the previous corresponding period at 247 tonnes.
"In the remaining six months of Calendar Year (CY) 2016, we anticipate gold demand to return to normalcy, supported by good monsoon that will positively impact rural demand. Regulatory / compliance norms and the implementation of the goods and services tax (GST) Bill are the two key factors to watch out for in the long run as regards gold prices and demand are concerned," Somasundaram says.
Global view
Led by a massive 141 per cent surge in investment demand to 448 tonnes in Q2 CY16, the global demand for gold was higher by 15 per cent y-o-y. Continued growth in Q2 CY16 brought total gold demand in the first half of CY16 to around 2,335 tonnes - the second highest first half on record.
"The growth in demand for gold-backed ETFs has eclipsed all other sectors in the first half. Demand for ETFs reached almost 580 tonnes, exceeding even H1-2009 when the sector saw inflows of over 458 tonnes in a single quarter.
And ETFs have proved to have appeal beyond Western borders. Chinese investors continue to add to their investments in these products, taking holdings to 24.4 tonnes by the end of June - an almost four-fold increase since the end of last year," the WGC report says.