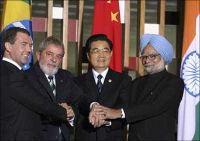 China may take legitimate credit for pulling off a successful summit last week of the alternative powers - Brazil, Russia, India, South Africa and itself, informally known as BRICS.
Yet, the fact remains that except for South Africa, which is seeking large-scale Chinese investment at home, the other three do not seem invested in allowing Beijing to expand its economic influence worldwide.
In fact, Russian president Dmitry Medvedev even made a joke out of the BRICS acronym at Sanya, the Chinese island where the summit took place last Thursday, saying he did not know who had created the acronym but with the addition of South Africa, he was now calling it BRYuKI (in Russian, Yu refers to Yuzhnaya Africa, or South Africa, while the K refers to Kitai or China), the Russian word for 'trousers'.
No one else really laughed, perhaps because they were focused on their own gains elsewhere.
Prime Minister Manmohan Singh, Brazilian president Dilma Rouseff  and South African president Jacob Zuma, besides Medvedev, seemed far more interested in their bilateral meetings with the Chinese leadership - itself a sign that Beijing is beginning to wield increasing political clout worldwide - than with diluting or defying China's obvious desire to emerge as an alternative voice to reckon with, along with the US.
For example, India and China agreed to restore their defence relationship, in cold storage since Beijing refused to give a visa to northern army commander B S Jaswal to visit China, while Beijing agreed not to henceforth "staple" visas of Jammu & Kashmir residents seeking to visit China.
This agreement was reached only the night before the PM met President Hu, an indication of the intense diplomatic back-and-forth that preceded the accord.
According to highly placed government sources, Delhi held out "veiled threats" to the Chinese side, pointing out that if a senior general of the northern command - the ultimate compromise was a Major-General, instead of the Commander himself - was not given a proper visa, Delhi would retaliate by initiating direct contact with, for example, provincial military commanders from Lanzhou or Chengdu (capitals of Gansu and Sichuan provinces, respectively), instead of through the Beijing-led People's Liberation Army.
The Chinese side got the message, and during the Manmohan-Hu bilateral, both leaders referred to the welcome development.
In
fact, Hu also referred to the need for China to open its markets for Indian information technology and pharma goods, an acceptance of the Indian complaint that the Chinese had, indeed, been playing hardball.
As for the Sanya declaration, it was also notable for its reference to the fight against terrorism and the need to reform the Security Council, both contributions by India.
However, since the UNSC expansion clause didn't elicit the kind of wholesome enthusiasm that Delhi had hoped for, BRICS' limited ability to change the world seemed confirmed.
IDEAS ON TRADE

Sanya's most significant outcome, of course, was BRICS' decision to broadbase the international reserve currency, currently the US dollar, and initiate "Trade settlement in local currencies among the five countries (to) promote trade and investment liberalisation. (This) will lead to even closer business and trade ties," said China's assistant foreign minister, Wu Hailong.
While it is still unclear how this will unfold exactly, analysts emphasised that trade settlements between the five designated banks did not mean they would directly deal in government-to-government lines of credit.
Unlike the 2000 Chiang Mai initiative, which allowed the creation of a nearly uninterrupted economic space between China and Southeast Asia (where the yuan or the 'hua-yuan', also called the 'greater yuan', held sway), Sanya's baby step towards financial cohesion was similar to the barter trade arrangement that once existed between special allies India and the former Soviet Union, the analysts said.
According to the Sanya declaration, each country's designated bank could offer a loan to another country's bank, which could then pass it on to entrepreneurs in that country.
For example, China Development Bank chief  Chen Yuan announced his readiness to extend 10 billion yuan as a loan, such as to improve cooperation with Brazil's Petrobras.
Rajiv Kumar, director-general of the Federation of Indian Chambers of Commerce and Industry, who was at Sanya, told
Business Stand
ard that in the years to come, the Sanya effect would be able to underwrite large deals, like the recent $8.3-billion agreement between Anil Ambani's Reliance Power and Shanghai Electric Corporation to supply 36 coal-fired thermal power generation units over three years.
"BRICS may not be a political grouping, but if the five banks can propel investment flows, thereby generating employment in India, I'm all for it," Kumar said.