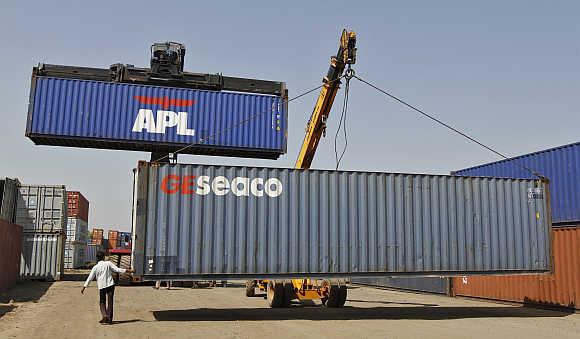 India's exports dipped deeper in the negative zone recording a decline of 21 per cent in March, the biggest fall in the last six years, pulling down the total shipment for 2014-15 to $310.5 billion, missing the target.
Exports have been on downward spiral since December last year. The previous biggest decline in export was in July 2009, when it dipped by 28.4 per cent.
Falling exports and an increase in gold imports have widened the trade deficit to four-month high of $11.79 billion in March.
Gold imports in March almost doubled to $4.98 billion. Falling exports of petroleum products (59.5 per cent), gems and jewellery (8.36 per cent), chemicals (5.36 per cent) and engineering goods (2.5 per cent) have led to the sharp contraction in March. These sectors contribute about 70 per cent to the country's total exports.
In March, exports decreased to $23.95 billion compared with $30.34 billion in the a year-ago period, as per the Commerce Ministry's data.
Compared with the previous fiscal, exports dipped by 1.23 per cent in 2014-15 . The government had fixed the target at $340 billion for 2014-15.
In 2013-14 too, total merchandise shipments stood at $314.4 billion, missing the annual target of $325 billion.
Imports contracted by 13.44 per cent to $35.74 billion in March. During 2014-15, imports dipped by 0.59 per cent to $447.5 billion in 2014-15, leaving a trade deficit of $137 billion. Industry experts said government will have to give a special thrust on enhancing exports.
"We have to move at higher end of the value chain. The figures are not good. We are still exporting lower-end products," FIEO Director General Ajay Sahai said.
Oil imports declined by 52.68 per cent to $7.41 billion in March. During 2014-15, it dipped by 16.09 per cent to $138.26 billion.
An official said the sharp decline in global oil prices has impacted India's petroleum exports, which account for 22 per cent of total shipments.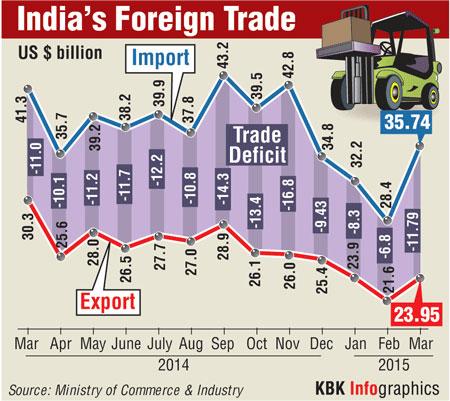 Non-oil imports in March grew by 10.55 per cent to $28.33 billion as against $25.62 billion in the same month last year.
During 2014-15 fiscal, imports were up by 8.35 per cent to $309.28 billion. Of the total 30 exporting sectors, which were tracked by the government, 22 have recorded negative growth in March.
These include tea, rice, oil meals, marine products, meat and dairy products, iron ore, coal and minerals, leather, pharmaceutical and electronics.
The sectors which registered positive growth include coffee, tobacco, spices, cashew, oil seeds and textiles.
The Federation of Indian Export Organisations (FIEO) said that continuous slowdown in demand in global markets and liquidity problem are the major reasons responsible for the double digit negative growth in exports.
It expressed serious concerns over the declining trend and said that Indian exporters need immediate attention.
"Government should declare exports as priority sector and also restore interest subvention scheme to arrest the fall in exports," it said.