Domestic air traffic demand in India grew by around 14 per cent with the airlines enjoying an average load factor of almost 79 per cent in May compared to last year, even as the global traffic rose by 6.8 per cent.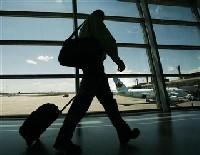 "India's domestic demand was 13.8 per cent above previous-year's levels against a capacity expansion 19.9 per cent. The load factor of 78.3 per cent is consistent with the global average of 79.4," global airlines body International Air Transport Association (IATA) said in its latest report.

While the May results showed a 6.8 per cent rise in global passenger traffic over May 2010, this was four per cent higher than the beginning of the year.

"We saw positive developments for the air transport volumes in May. But there are risks associated with
political unrest in the Middle East and the European currency crisis," IATA chief Giovanni Bisignani said.
"We still expect the industry to make USD four billion this year. That is a pathetic 0.7 per cent margin and another shock could alter the industry's fortunes dramatically. It is another tough year for a very fragile industry," he added.
In China, domestic demand was 10.4 per cent higher than in last May, with load factors touching 82 per cent. On the global passenger market, the IATA report said the "fastest international growth" was witnessed in Latin America where air carriers saw a growth of 21.3 per cent compared to May 2010.
The airlines of this region also experienced the fastest capacity expansion at 15.2 per cent.
Asia-Pacific carriers recorded an expansion of 4.7 per cent, which was considerably below the global average of eight per cent.
© Copyright 2022 PTI. All rights reserved. Republication or redistribution of PTI content, including by framing or similar means, is expressly prohibited without the prior written consent.