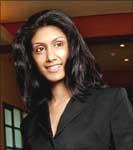 Nisa Godrej and Roshni Nadar, the daughters of industrialist Adi Godrej and technocrat Shiv Nadar, respectively, have been named among the world's 10 billionaire heiresses to watch for Forbes magazine.
The 10 heiresses chose to "live a low key life, spending much of their time trying to live up to their family's legacy and working to make a difference behind the scenes," the publication said.
The list also features New York Mayor Michael Bloomberg's daughter Emma Bloomberg, famed American investor George Soros' daughter Andrea Soros, Italian designer Giorgio Armani's nieces Silvana and Roberta Armani, flamboyant British businessman Richard Branson's daughter Holly Branson, Dylan Lauren, Aerin Lauder, Ivanka Trump and Jennifer Woo.