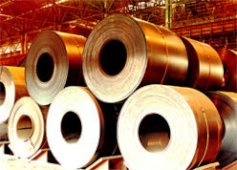 With less and less coal and iron ore blocks being allotted to Indian companies at home, the world has become their oasis, as they successfully buy raw material assets across continents.
Raw material security and backward integration was the theme for acquisitions in 2010 and will continue so.
JSW Energy bought coal mines in South Africa and Botswana. Essar Steel bought Trinity Coal, USA, for $600 million and also took over the management control of Zisco, Zimbabwe, a company with substantial iron ore reserves, though unproven.
Adani Enterprises bought Linc Energy and Lanco Infratech snapped up Griffin Coal, both in Australia.
JSW Steel's coking coal buy in the US and iron ore mines in Chile will begin to bear fruit very soon.
Vedanta, in its quest to consolidate its number one position as the zinc and lead producer of the world, raced to buy Anglo American's three zinc mines.
Jindal Steel and Power's two billion-tonne iron ore mines in Bolivia are envied by other steel makers.
Tata Steel, to secure its European operations, increased its stake in New Millenium's DSO project in Canada and its investment in Riversdale (Australia) is now a centre point for Rio Tinto's strategy to get a foothold in coking coal assets.
Work to extract iron ore at Tata Steel's project at Cote d'Ivoire (in West Africa) is also progressing, although slowly, but promises at least 15 million tonnes every year once it starts.
Home deficit
Each had diverse reasons to buy raw material assets abroad but the need emerged from a common ailment -- slow or no progress at getting these assets in India or even the quality of the assets in question.
Lanco Infratech, which bought Griffin Coal, Australia, this month for A$750 million, did so since this gives it access to over a billion tonnes of coal.
This translates into raw material security for the company's plans to be a 10,000 Mw power producer.
Griffin currently produces 4.5 mt per year of coal and Lanco plans to raise this to 15 mt in due course, continuing exports to China and Japan and bringing it to India for its own projects.
H Nerurkar, managing director, Tata Steel, in an interview with Business Standard in October, said  quality coking coal assets all over the world were too few and far between. Hence, the race to buy whatever asset comes up.
The company owns 24.1 per cent in Riversdale, Australia, with a 40 per cent offtake agreement in Riversdale's Benga coal project in Mozambique (southern Africa), which Tata Steel says is of strategic importance for its raw material security.
The company wants Tata Steel Europe to at least have 25 per cent raw material security and is working aggressively towards it.
Essar Steel, which has a presence in Canada with its four-mt steel plant, bought Trinity Coal earlier this year for $600 million. Trinity, with reserves of 200 mt, produces seven mt of coal every year.
The company had said the buy fitted perfectly
into Essar's strategy to achieve backward integration and raw material security.
JSW Energy, part of the JSW Group, in April 2010 bought a 49.8 per cent stake in  South Africa-based Coal Mining Holding Ltd for an undisclosed amount.
The company hasn't disclose the reserves but says coal shipments have started to come to India at its Jaigarh port.
JSW Energy has a 1,200 Mw power project in Ratnagiri district of Maharashtra. The company is looking to expand its generation capacity to 11,000 Mw within the next five years, from its current 1,430 Mw.
The company recently bought CIC Energy of Canada for $414 mn. It has coal deposits in Botswana, southern Africa, pegged to have reserves of 2.6 billion tonnes.
JSW Energy's chairman, N K Jain, said about CIC's Botswana field, "The reserves can be exploited with an exportable surplus of up to 20 mt per annum over the next 40 years. The reserves can also meet the requirement to set up power plants in Botswana with a capacity of up to 2,000 Mw."
JSW Steel's US coking coal buy for $123 mn is also expected to begin shipments soon. The company had bought seven coking coal mines, of which only one is operational.
An analyst with a domestic brokerage said, "Coking coal prices have doubled over the past two years and there are no signs of it slowing. Therefore, JSW's coking coal buy, although in the US, may reach economies of scale if prices rise higher."
Reserve assets
Some assets are being bought for hedging purposes as well. JSW Steel and Jindal Steel and Power have bought iron ore reserves in Chile and Bolivia but the companies don't have plans to bring those to India.
Said an analyst, "The cost of bring iron ore from Chile and Bolivia will be significant and will serve no purpose for the companies, as they won't be able to save any more.
Therefore, they will use those resources as a hedge towards their iron ore buy in India."
Both companies are looking to sell the ore in the international market at prevailing prices and continue to buy iron ore in India from local sources or from captive mines, as and when they are allocated.
Adani Enterprises' mega-Australian buy of Linc Energy comes with reserves of about eight bn tonnes.
The company will be paying close to $3 bn over 20 years to secure the deal.
The company maintains the acquisition would help it secure raw material to reach 20,000 Mw capacity by 2020.
Analysts and industry experts say the demand and supply gap for coal in India is at 80 mt now and is expected to widen.
"Rising coal prices and lack of quality coal in India is the prime reason why Indian companies are so actively pursuing coal buys abroad," is the consensus.