Aided by the new initiatives of the government, there has been a huge drop in imports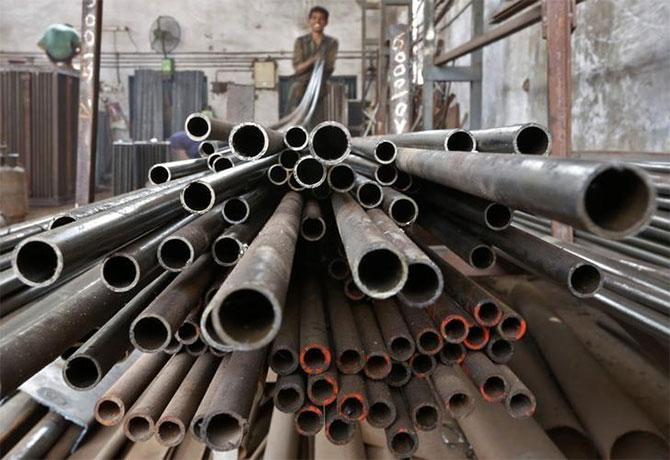 Exports of Indian steel have surpassed imports after a gap of three years due to government measures like the minimum import price (MIP).
According to the Joint Plant Committee figures, during April-February, exports increased 77.48 per cent to 6.62 million tonnes while imports fell by 65.20 per cent to 6.59 million tonnes.
Though the difference between exports and imports is just about 2,00,000 tonnes, the industry expects the trend to continue till March-end, if not longer.
"There is a strong possibility that on a 12-month basis also, exports will be higher than imports, as larger players like SAIL, Tata Steel, JSW Steel and Essar Steel, are all exporting.
Going forward too, imports are likely to get substituted, as Indian producers are building domestic capability. Imports are mainly automotive and electrical steel, but some companies like Tata Steel and JSW are geared to meet automotive requirements," Jayanta Roy, senior vice president, Icra, said.
It is a combination of factors that have pushed Indian exports. The foremost could be the government measures.
"Thanks to the initiatives of the government, there has been a huge drop in imports. So even if the domestic demand is muted, the additional production that has come to the market during the year is getting released through exports," said Sushim Banerjee, director general of the Institute for Steel Development and Growth (INSDAG).
Domestic consumption has grown at a disappointing pace. During April to February, consumption increased 3.39 per cent to 76.2 million tonnes while production of crude steel increased 9.3 per cent.
Installed capacity during the year has grown by about 7-8 million tonnes to 122 million tonnes and by the middle of the year, it's likely to be around 130 million tonnes. "It's a good thing that's exports have picked up and that is likely to be the trend," Banerjee said.
Demonetisation has added to the demand problem and according to a CARE Ratings report, steel consumption is expected to remain under pressure in the coming few months to a certain extent.
Producers say that there is no domestic demand but what was being met by imports till the government stepped-up in 2016 with the MIP, is now being catered to by Indian steel. That has kept concerns at bay. Since MIP, steel prices have increased by around Rs 7,000 a tonne.
The additional output is being diverted to the export market even though export realisations are about Rs 1,000 less than domestic. But since October, export prices have increased by 15-20 per cent.
According to CARE Ratings, the global steel prices are majorly dependent on the demand-supply situation in China and production capacity cuts that the country undertakes to address the problem of overcapacity.
"China leads the problem of excess steel production capacity in the world. The prices of steel products in China are believed to have increased on account of improved demand of steel from the country for infrastructure and construction.
Also, production capacity cuts undertaken by China are believed to have supported the price rise," a CARE Ratings report said.
However, for now, the export market looks good and it appears that the Indian government may be poised to realise its dream of becoming a net exporter of steel a little early in the day.
One of the objectives of the National Steel Policy 2017 - the draft has been put out by the government - is to be a net exporter of steel by 2025-26.
Photograph: Amit Dave/Reuters