The current system of the Indian Railways is on the brink of collapse. The Indian railways working model is not financially viable either. The railways coffer have gone, almost, bankrupt, that is the outcome of the intense review undertaken by the committee consisting of galaxy of experts that was given task to review the Indian railways safety.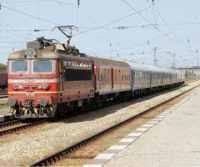 The report was prepared by famous personalities from the world of nuclear science, space and education that included nuclear scientist Anil Kakodkar, former chairman of Atomic Energy Commission, who headed the committee. The committee members were selected from such high-end technology-related fields because they are trained to be perfect and they value precision.

While appreciating the "dedication" of the railways' employees the committee has argued for complete overhaul of the current system. They believe that if this is not done the Indian public may lose faith in Indian Railways.

Dr Kakodkar was assisted by Dr N Vedachalam of Vikram Sarabhai Space Centre, Thiruvananthapuram, Professor Sanjay Dhande, Director, IIT- Kanpur, GP Srivastava of  Bhabha Atomic Research Centre and E Sreedharan, Managing Director, Delhi Metro Rail Corporation who was the advisor to the committee.

Dinesh Trivedi, Minister of Railways, told rediff.com,
"The report will be submitted today. I had formed the committee after the rail accident in Kanpur. Before tightening the zero tolerance policy on safety issues I wanted to understand the entire span of the issues."
The committee has examined in detail amongst many things the human resource development, their training, education and research, the signaling systems, rolling stock, tracks and bridges.
Trivedi, who will be presenting the railway budget on March 14, said, "Indian railways have done exceptionally professional audit of railways standards of safety with help of Dr Kakodkar's committee."
However, experts are skeptical how the committee's recommendations will be implemented by the Railways which have, almost, gone bankrupt. Since last ten years passenger fares have not been increased.
According to one estimate the Railway needs, urgently, more than Rs 20,000 crore (Rs 200 billion) to get going.
Last month Trivedi has sent a letter to finance minister to release urgently Rs 10,000 crore (Rs 100 billion). He has told the ministry that the Railways can add another 2 per cent to the country's GDP growth if it functions properly.