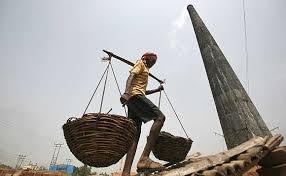 Half of India's thermal power stations have less than a week's supply of coal on hand, according to weekly data, the lowest level since mid-2012 when hundreds of millions of people were cut off in one of the world's worst blackouts.

There was a sharp fall in power output on Thursday from a plant in Gujarat that left India more than 9,000 megawatts short of peak demand, according to two officials at the state grid operator.

Any grid collapse would cast doubt on the crisis management skills of the new government led by Prime Minister Narendra Modi, whose achievement in ensuring 24-hour power supplies as premier of Gujarat helped him to election victory in May.

Commenting on Thursday, Power and Coal Minister Piyush Goyal said: "I don't know about the possibility of a breakdown ... There is a problem, I think, with many of the coal supplies."

The shortage has come about as a fall in hydroelectricty generation due to weak monsoon rains forced the government to ask coal-based power stations to raise output, an industry source said.

India suffered unprecedented power cuts on July 30-31, 2012, that affected 620 million people -- nearly a tenth of the world's population - in 22 states across the north and east of the country.

Asia's third-largest economy relies on coal to generate more than two-thirds of its electricity, but power plants are running short because state behemoth Coal India Ltd has been unable to meet rising demand.

Cautious steps to open up coal mining to competition have been thrown into chaos by a Supreme Court ruling this week that all coal block allocations since 1993 were illegal. These went to steel, cement and power firms that had to use the coal themselves.

In a second ruling next Monday, the court will decide whether to scrap the awards of more than 200 of these 'captive' blocks, or instead fine licence holders, promising further uncertainty before new mines can ramp up output.

The Indian Express reported on Friday that 10 out of 13 thermal plants that have suffered forced outages are state-run, raising questions over exactly how Coal India allocates supplies. A Coal India spokesman had no immediate comment.

ALARMING SITUATION

Many of these regional state power companies have imported less than required due
to financial stress, having run up losses because they must pay market prices for coal but can only sell power at regulated rates.
"The current coal stock situation is indeed alarming," said Viresh Oberoi, chief executive of mjunction, an online commodities trader that is a joint venture between Tata Steel and Steel Authority of India Ltd.
India produced 565 million tonnes of coal in the fiscal year to March, making it the world's third-largest producer.
Even so, it is also the fifth-biggest importer of coal and the crunch could offer a sales opportunity to exporters.
Indonesia expects to raise its shipments to India this year by 10 million tonnes to around 100 million, Bob Kamandanu, chairman of the Indonesian Coal Producers Association, told Reuters.
Central Electricity Authority power figures for the situation on Tuesday, accessed by Reuters on Friday, showed that 50 of India's 100 thermal power stations had enough coal to last less than seven days.
Taken as a whole, India's thermal power generators have six days of supplies - far short of the 15-30 days set as an operating norm by the CEA.
As well as being short on capacity, India's power network lacks the connectivity needed for areas suffering shortages to tap supplies from other regions.
Utility Adani Power Ltd has reduced output at its Mundra facility in Gujarat by about 2,300 megawatts due to a shortage of coal, two senior officials at the state-owned Power Grid Corp of India Ltd said.
As a result of the cut, India's total generation capacity on Thursday was about 9,110 MW less than its potential demand at peak periods of the day.
That gap was nearly twice as wide as at the beginning of the week, according to Power Grid data.
Adani declined to comment.
An unusually hot August has meant that city dwellers have kept their air conditioners running.
States that could be hit with blackouts include Maharashtra, whose capital is the financial hub Mumbai, and Haryana, one power grid official said, declining to be named as he was not authorised to speak to the media.
Friday was a holiday in parts of India, including Maharashtra, easing power demand, but it is expected to ramp back up once the entire country gets back to work on Monday.
(Additional reporting by Sumeet Chatterjee and Aman Shah in Mumbai, Nidhi Verma in New Delhi and Yayat Supriatna in Jakarta)