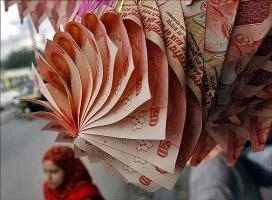 Bullish on India story of development, Bharatiya Janata Party member of Parliament and former investment manager Jayant Sinha on Friday said the country has potential to become a $5 trillion economy and its stock market can generate $3 trillion of wealth in the next 10 years.
Sinha, who was in New York at the India Investment Forum organised ahead of Prime Minister Narendra Modi's five-day visit to the US, said that India was determined to show to the world that there can be an 'India model of development' and it could be much better than the China model and those based on 'authoritarian powers'.
Son of former Finance Minister and senior BJP leader Yashwant Sinha, Jayant won Lok Sabha elections from Hazaribagh in Jharkhand state earlier this year and formerly he was managing director of Omidyar Network India Advisors.
He also served on the five-member global Executive Committee of Omdiyar Network, which is the world's leading impact investment firm with about $700 million in deployed capital.
ON was founded by Pam and Pierre Omidyar (Founder and Chairperson, eBay).
Talking about his days before elections, Sinha said 'not long ago I used to sit in such conferences as an investor and I'm privileged to talk to you today and I am grateful that my party, BJP, has given me an opportunity to present our economic policy on such platforms.
"I was often equated with Nandan Nilekani and Meera Sanyal when I was fighting elections during Lok Sabha polls.
"But I've always said that my story was different, as I was staying in the US earlier and I decided to contest from a place which was among the poorest in the country and was also naxal-infested," he said.
"In contrast, the other two fought from heavily urbanised places and both of them stayed for most part in India.
"The degree of difficulties I had to face was much more different, but as luck would have it, I won elections and other two lost.
"Even people got it wrong when they said Jayant Sinha was moving from Harvard (where he studied) to Hazaribagh.
"It was the other way round as I was born and brought up in Hazaribagh and went to Harvard from there."
Speaking on the topic of what India needs from the world and what the world can expect from India at the conference organised by the Institutional Investor Forums, Sinha said,
"The Indian economy is today a $2-trillion economy and we have also grown at 7-8 per cent growth and we can double the economy to $4 trillion in ten years if we are able to regain that growth rate.
"Even rupee can go from Rs 60 level to become stronger and in US dollar terms we can become a $5-trillion economy in 10 years.
"The market cap of India has also broadly been in the same ratio to the economy and the Indian market can also therefore go to $3 trillion in the next 10 years and that too only/ for listed companies and the unlisted companies can add another trillion dollar," Sinha noted.
"That is the potential Indian markets present today.
"There are investors who have lost money in China, but all those who invested in India have seen biggest of the wealth creation opportunity," Sinha said.
He said that he was confident his party and the Prime Minister were going to stay in power for at least 10 years and this was good enough time to take the country to greater levels.
Sinha said it was more about what India can give to the world, although India also needed certain things from the world like energy, capital and technology.
"What we need from the world is energy, first, then it is technology.
"There also, we don't need all kinds of technology.
"We have proved with Mangalyaan that we are also very capable of some really good technology. The third thing that we do need is capital.
"So far, domestic capital is the most important driver of our growth.
"At the same time, we need huge capital from abroad, but as far as I can see, the world is awash in capital, but what they are getting is low returns.
"If we have energy, technology and capital, we are on the course to become a $5 trillion economy," he said.
On what India can do to the world, Sinha said, "If we look at stars of different kinds of industries, that only India can provide.
"What China did was kill many industries with what we call China price. On the other hand, if you look at India, it has done tremendous things for the IT industry.
"The kind of human capital we have in India is very important.
"We have seen that Indian pharma companies have been very competitive and we can see similar things in the medical device industry.
"We can also see very innovative developments and frugal thinking in roof-top solar systems and a lot of design and innovations are happening in that area.
"Automotive is another area and we have seen large automakers using India for their manufacturing activities.
"These are some areas where India can really give great things to the world.
"These are industries that need innovations, human capital and a frugal thinking. We are not going to replicate what China has done," he said.
"If in India we can get to 7-8 per cent growth and become a $5 trillion economy, then what we demonstrate to the world is that there is not just China model of development, but also an India model for development that is based on diversity, democracy and innovations.
"We can show people that you don't actually need authoritarian power to bring in development.
"I can tell you that the Prime Minister is very focused on this and he is very passionate about this India model," he added.