As the battle for the generic market for off-patent drugs in the US intensifies, Indian companies remain at the top in filing drug master files (DMFs) with the US Food and Drug Administration (FDA). Filing a DMF is necessary for third-party sale of pharma ingredients in the US, similar to abbreviated New Drug Applications (ANDAs) for formulations.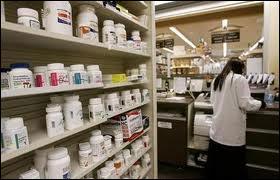 In 2012, drugs worth $35 billion went off-patent in the US, while the market size of drugs which will see patent expiry in 2013 will halve to $17 billion.
As of the December quarter, 143 DMFs have been filed with the US FDA and the share of Indian companies (70 DMFs) stands at 49 per cent of the total. The share of DMFs from India touched a high of 51 per cent in 2009, up from 36 per cent in 2005.
According to a report by Kotak Institutional Equities Research, the share of Indian companies filing DMFs has stabilised around 50 per cent over the past four years.
"Most of the filings from Indian companies are targeted at recent or upcoming New Chemical Entity (NCE)-1 opportunities. The NCE-1 landscape is expected to remain competitive based on multiple DMFs," said the Kotak report. DMF for NCE-1 can be filed at the end of the fourth year from the date of approval. Exclusivity for NCE is given for five years.
Among the Indian firms that have filed DMFs in the last quarter, Biocon leads the race with filing DMF for Rosuvastatin, generic version of Crestor, one of the largest selling anti-cholesterol drugs with annual sales of $3 billion.
Another major, Dr Reddy's, is vying for the pie of Fingolimod, generic of Gilenya, a multiple sclerosis drug with $750 million sales.
There have been additional filers for upcoming NCE-1 opportunities - Alembic (Febuxostat-$150 million), Cadila (Lacosamide-$300 million), Glenmark (Lacosamide, Rufinamide), Lupin (Fesoterodine-$100 million), Ranbaxy (Lacosamide), Sun Pharma (Fesoterodine, Febuxostat-$150 million) and Wockhardt (Fesoterodine).
Dr Reddy's tops the table among DMF filers in 2012 with 13 filings followed by Lupin (12), Cadila (11) and Sun Pharma (11). Among the mid-sized players, Hetero Drugs is at the top with 38 DMFs, followed by MSN Laboratories at 15 in 2012.