Issues relating to environmental clearances and work visas were the main factors deterring bilateral trade and Indian investment into Canada, said Nirmal Verma, India's new high commissioner in Ottawa.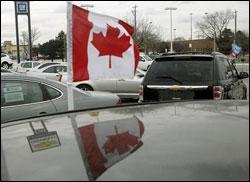 "Some of our big players need to be assured of some of the aspects…why is it oil majors are investing in Venezuela, not here?" he asked, responding to a question from Business Standard at a media interaction in Toronto. Verma said the "issues that have to be discussed" related to "the conditions that are there, in terms of assurances, that post the investment, till you invest and start production, there will be no hitches".
He mentioned the controversial Keystone XL oil pipeline proposed between the US and Canada and noted there were concerns about its clearance. Verma said Indian industry was considering major projects in Canada, but it needed assurances no hurdle would come up at a later stage.
"Aspects of environment issues or infrastructure, which runs across coast to coast, would these be executed without a hitch or would there be a problem of certain clearances?" he asked. However, he said he was convinced the Canadian government was aware of this and the two countries would find ways to resolve all concerns.
Verma also said Indian companies, especially those in the information technology sector, had complained about the difficulty in obtaining work visas for staff they needed to bring to Canada. "Here, there are issues where we do have a problem…And that certainly is, I think, a substantial factor, which discourages," Verma said, adding he hoped it would be addressed as part of the comprehensive economic partnership agreement between India and Canada.
The two countries are committed to finalising the agreement this year and the envoy said talks were on track to meeting that deadline.
The shortage of work visas was partly responsible for holding back bilateral trade, Verma said. "You take countries like Malaysia and South Africa for example. We had certain targets to be met by 2015, in terms of bilateral trade…we've already achieved them. Now, we're literally redefining the targets," he said.
India and Canada have set a target of $15 billion in bilateral trade by 2015 and officials in both countries have said a successful completion of the comprehensive economic partnership agreement would be critical to meeting the target. Annual trade between India and Canada is worth about $5 billion. Indian investments in Canada stand at about $14 billion, while Canadian investments in India are about $5 billion. Verma said he had arrived in Ottawa with a brief to raise both figures.
Economic cooperation between the two countries could get a boost if Finance Minister P Chidambaram's plan to visit Canada in April is finalised.