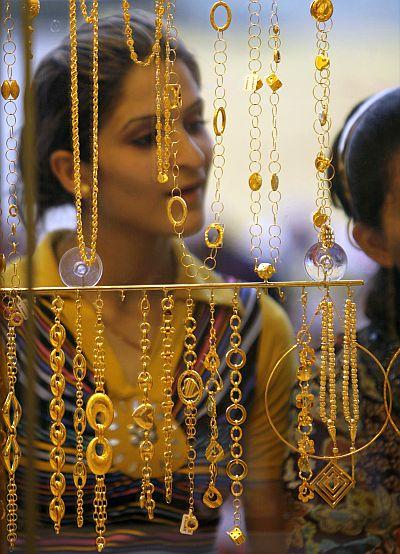 Festive demand for gold in India got off to a tepid start, with local prices still at a heavy discount to the global benchmark, a bad sign for a period when buying is typically strong.
Though sales picked up this week with the onset of the festival season, demand was lower than usual, retailers said, even as jewellers splashed newspapers across the country with ads promising good deals and discounts.
Following the nine-day Hindu festival of Navratri, India celebrates Dussehra on Thursday, when buying of gold jewellery, coins or bars is considered auspicious.
The fourth quarter is typically a strong period for gold purchases in India, the world's second biggest bullion consumer, due to festivals and weddings.
"This year fewer customers are visiting our showrooms compared to last year," said Tanya Rastogi, a director at Lala Jugal Kishore Jewellers in the northern state of Uttar Pradesh.
"For the last two to three years, gold has been giving negative returns.
It has badly affected investment demand," Rastogi said.
Still, next month India will celebrate Dhanteras and Diwali, when demand could improve, she added.
Global gold prices are on track to post their third straight annual loss this year, already down nearly 40 per cent since hitting a record high in 2011.
Dealers in India were offering a discount of $8 to $12 an ounce this week, compared to $7 to $11 last week.
Demand from rural areas has been hit particularly hard as farmers suffer from the first back-to-back drought in India in three decades.
Two-thirds of gold demand in India comes from farmers and residents of small villages who see jewellery as way to store wealth.
But lower-than-normal monsoon rainfall this year due to El Nino weather pattern has eroded rural incomes. "Demand from rural areas has moderated due to drought. Jewellers from the countryside made thin purchases in the last few weeks," said a Mumbai-based dealer with a private bank.
Elsewhere in Asia, demand remained lacklustre.
In top consumer China, prices on the Shanghai Gold Exchange ticked up to a premium from a small discount late last week, though dealers at bullion banks said physical buying wasn't strong.
"Demand is very sluggish," said Ronald Leung, chief dealer at Lee Cheong Gold Dealers Ltd in Hong Kong, adding that a strong dollar and a recent price rally was hurting demand.
In Hong Kong this week, premiums dropped to 80 to 90 cents an ounce, from $1.20-$1.30 last week.