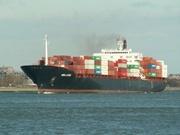 Export from India through Attari-Wagah border fell by 17 per cent in value terms and 30 per cent in volume during April till November in the current fiscal, due to recessionary pressure.
The overall export from India through Attari-Wagah route plummeted to Rs 830.47 crore (Rs 8.30 billion) during April to November period against export of Rs 996.35 crore (Rs 9.96 billion) in the last fiscal, showing a decline of whopping Rs 165.88 crore (Rs 1.65 billion), as per the data by Customs Department.
Similarly, in terms of volume goods export from India also saw a major decline with export quantity sharply going down by 30 per cent to 3.42 lakh Metric Tonne in this period compared with export of 4.89 lakh MT.
India mainly exports soyabean, dyes, tyres, tubes, chemicals, spices, cardamom, red chillies through rail route while it also exports perishable commodities like onion, potato, tomato, garlic, livestock, cotton and maize through road route.
"Export from India has been hit because of overall recession that led to decline in demand for commodities from Pakistan," a senior official of Customs Department in Amritsar told PTI.
Notably, during 2008-09, total export from India posted a robust growth of 26 per cent to Rs 1,302.30 crore (Rs 13.02 billion) from Rs 1,033.40 crore (Rs 10.33 billion) in 2007-08 on the back of commencement of cross border movement of commercial trucks in 2007.
Interestingly, export of perishable goods through Attari-Wagah land route rose by 10 per cent to Rs 377.99 crore (Rs 3.77 billion) during April till November this year, despite Pakistan imposing heavy taxes on import of potato, onion and tomato from India in June this year.
The Pakistan government had imposed 16 per cent sales tax on import of onion and potato and 4 per cent income tax on potato, onion and tomato, as per Indian exporters. "Had there not been taxes on perishable commodities, export would have grown considerably," an Amritsar based exporter said.
Not only export, import from Pakistan through Attari-Wagah route has also suffered with total import to India falling by 2.24 per cent to Rs 509.21 crore (Rs 5.09 billion) from Rs 520.88  crore (Rs 5.20 billion) in the corresponding period of last fiscal. India mainly imports dry fruit, which primarily come from Afghanistan.
However, collections of customs department rose by 38 per cent to Rs 81.55 crore in eight months starting April from Rs 58.95 crore in last fiscal.