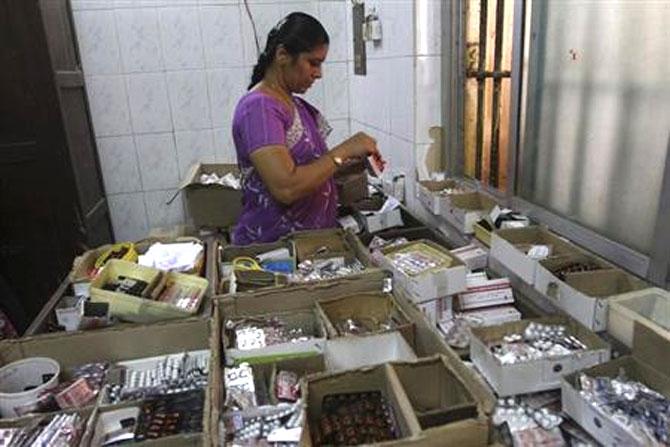 Indian drug makers, slammed for months in the US over issues related to quality and intellectual property rights, might soon get to breathe easy.
The US regulator is set to expedite from October the approval process for generic drugs by lowering the application scrutiny period from three years to 11 months.

This is expected to translate into major gains for domestic drug makers like Sun Pharma, Lupin, Glenmark, Dr Reddy's Laboratories, Cadila Healthcare and Torrent Pharma, which have a significant presence in that country's $30-billion generic drug market.
"Faster approvals will help companies bring in more products to the market. October onwards, we are certainly expecting more launches in the US," a senior executive of a domestic pharmaceutical company, asking not to be named, told Business Standard.

The move comes in the wake of increased focus on the US' Patient Protection and Affordable Care Act, popularly called Obamacare, which aims to lower healthcare spending in America.
International reports suggest prices of medicines, including those of generics, have risen significantly in the past year.
According to a survey by America's National Community Pharmacists Association, prices of some of the medicines spiked more than 1,000 per cent in 2013.

The US Food and Drug Administration's (US FDA's) proposed move to fast-track clearances to generic drug applications from October is aimed at bringing in more products to the market, so that more competition governs prices, says sources and industry officials in the know of the latest developments.

However, foreign generic drug makers like Teva, Mylan and Sandoz, which already have a considerable presence in the American market with extensive product pipelines across segments, are likely to face competition with other generic players entering early and vying for larger market share.

"Early penetration of more generic players will also allow faster price erosion.
That will help bring down healthcare cost in favour of Obamacare, but might hurt existing players' interests," the senior executive said.

Indian companies, which account for 10-12 per cent of the total US generic market, will also benefit from the move because these companies have been paying hefty fees to the regulator since 2012 while applying for generic drug approvals there.
However, instead of expediting approvals, US FDA prolonged the clearance time for applications to be filed before 2017.
This disappointed generic drug makers, which planned to launch products during the patent cliff.

"Delays in product approvals, coupled with fees for filing of ANDAs (abbreviated new drug applications) have been a major concern for the past few years.
Our revenue growth was stalled because of these delays, while our cost rose substantially because of fees," a senior management official from another pharma company explained.

During US FDA Commissioner Margaret Hamburg's visit to India earlier this year, representatives from domestic companies like Sun Pharma, Ranbaxy, Cadila Health and Torrent Pharma had also raised the issue of delay in product approvals hurting their revenues.

Also, generic drug makers were concerned that once they applied for approvals, their products were vulnerable to potential patent infringement litigation, which might add to their cost, while sales of these products were yet to take off.

Given that India is the largest foreign supplier of generic medicines to the US, which in turn is the biggest market for domestic companies, faster generic drug approvals will help both sides.

Industry estimates show, major domestic drug makers like Sun Pharma, Lupin, Glenmark, Dr Reddy's and Cadila Health annually file 15-20 generic drug applications each.
Even smaller companies like Torrent Pharma and Alembic file five to 10 ANDAs every year.

On fast track

40 per cent:Indian companies' share in the US' generic drug and over-the-counter product market (India is the biggest foreign supplier of generic medicines in that country)

10 per cent: Indian firms' share in finished dosages used in the US

1,000 per cent: Surge in some medicines' prices in the US in 2013, according to a survey

$30 billion: Estimated size of the US generic drug market

15-20: Number of ANDAs (abbreviated new drug applications) filed in the US annually by major Indian firms like Sun Pharma, Lupin, Dr Reddy's and Cadila Health

5-10: Number of ANDAs filed in the US every year by smaller Indian firms like Torrent Pharma and Alembic