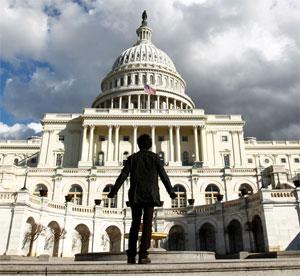 For the first time after the formation of Narendra Modi government, high-level delegations of Indian CEOs are visiting the US this week with the objective to revitalise Indo-US economic relationship.
Led by Ajay Shriram, chairman and senior managing director, DCM Shriram, the CEO's delegation seeks to convey to their American counterparts the sense of optimism amongst Indian industry.
This is with regard to the policies and messages emanating from the new government, as well as an understanding of the new and emerging business opportunities for Indo-US collaboration.
The three-day visit of the Indian CEOs, organised by the Confederation of Indian Industry (CII), would come just ahead of the expected resumption of several bilateral dialogues including the India US Strategic Dialogue in New Delhi towards the end of this month.
The delegation will hold preliminary consultations with key US stakeholders relating to various upcoming developments including the US-India Strategic Dialogue, the visits of several high level officials to India and finally the visit of Prime Minister Narendra Modi to the US, a CII statement said.
In addition to Shriram, who is also the CII president, other members of the delegation include Naushad Forbes, vice president, CII and director, Forbes Marshall Private Limited and Chandrajit Banerjee, director general, Confederation of Indian Industry.
It also includes Vikram Kirloskar, vice chairman, Toyota Kirloskar Motor Private Limited and Rajan R Navani, chairman, CII National Committee on India@75 and managing director, Jetline Group of Companies.
In Washington DC, the CII delegation will meet various high level officials from the government agencies such as USTR, US Department of State, Department of the Treasury, Department of Defence and National Security Council.
Other meetings on the agenda include interactions with Members of US Congress and with business leaders from the US India Business Council.
In addition, CII will hold a public programme in partnership with the Carnegie Endowment for International Peace, where the delegates will discuss promising developments for the Indian economy following its recent watershed election results and the future direction of the Indo-US bilateral partnership.