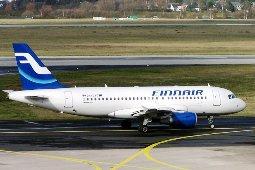 Nordic air carrier Finnair has chosen seven quality hunters, including an Indian, to assess its flight operations and quality of services on different international routes for future improvement.

"The quality hunters will travel on Finnair flights from Finland capital Helsinki to various destinations in Europe, Asia and the United States," a Finnair release said.

The travel assignment started on Thursday and will end after six weeks, it said.

Among those selected is an Indian, Sanjoo Malhotra.

Malhotra currently lives in Stockholm, Sweden, where he is a travel entrepreneur and a food artist.

He creates cuisine that fuses Indian spices with fresh Nordic-sourced ingredients.
"As the quality hunter for the food and drink category, Sanjoo will explore not only the atmosphere and quality of the food on offer both in-flight and at the airport, but will go into greater detail considering ecological food sourcing and menu planning," the release added.
Finnair presently operates a daily direct flight from New Delhi to Helsinki, except on Tuesday. It also launched a cargo service between Mumbai and Helsinki on September 16.
The other quality hunters hail from Israel, Denmark, Germany, France, Japan and Finland.
"The quality hunters' task is to identify development areas and also to find solutions that can be implemented and thereby improve customers' travel experience," said Finnair director of global marketing Antti Nieminen.