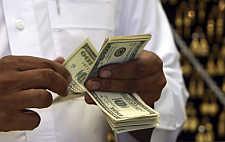 Surat-born and raised, long-time Republican Party stalwart and major fund-raiser Akshay K Desai, who was GOP presidential nominee Mitt Romney's key liaison to the Indian American community, six month after boasting to Rediff.com that "my company is now doing business in 20 states and this year we are expecting revenue of $1.5 billion," has filed for bankruptcy, says Aziz Haniffa in in Washington, DC.

Desai's St Petersburg, Florida-based Universal Health Care Group, a major Medicare provider - has gone belly-up, leaving scores of Indian American physicians and entrepreneurs who invested an estimated $25 million high and dry.

The unraveling of Universal Health Care Group, which employs more than a 1,000 people in its downtown St Petersburg headquarters, of which Desai, 54, was the chairman and CEO, has also led to Desai resigning from the Florida Board of Education and as finance chair of the Florida Republican Party, with GOP sources saying Governor Rick Scott and the party bosses who had appointed him to these positions respectively, asking him to tender his resignation immediately, although Desai strongly refuted this contention.

During the presidential campaign, Desai also was appointed co-chair of Asian Americans for Romney and at the time he told Rediff.com that the GOP candidate Romney "a few months ago visited my company and spent a couple of hours and I gave him a tour and explained to him what we do and he was quite impressed."

Desai, during the campaign, was also seen travelling with Romney in his private plane to and from major fund-raising events.

When he was appointed finance chairman of the Republican Party of Florida, it was the first time an Indian American had been chosen to head up the finance committee of any party of an entire state.

At the time, Scott, said: "A K is a tireless advocate for Florida and for our Republican party," and predicted, "RPOF will be well served by his dedication and experience."

Explaining the genesis of how he came to be named to this influential position, Desai, said, "Governor Rick Scott called me and urged me to consider taking up this position, saying that I had the experience and was a long-time party loyalist and having been a staunch supporter of former governors Charlie Christ and Jeb Bush. He also said that he was so impressed by my track record of activism in the Republican Party for nearly two decades."

According to court records, Universal, more than $45 million in debt, had filed for Chapter 11 protection and it was likely to be placed in receivership - or state custody - by the Florida Department of Financial Services and consequently would be liquidated to pay off its debts and all other outstanding policy claims.

State regulators had charged that Universal had demonstrated "a pattern of mismanagement" by overstating its revenue and assets and other financials, and "releasing misleading information and failing to maintain sufficient capital to sustain thousands of insurance policies."

Among some of the major investors in Universal were Drs Zach Zachariah of Fort Lauderdale, Florida, and another longtime major Republican Party fundraiser, who had ploughed in over $6 million, and Raj Gupta, also from Fort Lauderdale, who had invested over $4 million.

Several other Indian American physicians, entrepreneurs, and even some academics had invested anywhere from $250,000 to $1 million each, and among them there was an overriding sense of deep disappointment and despondency, with one of them saying, "All the investors have been right-royally
screwed."
"It's really pathetic and we are finding all kinds of shenanigans have been going on," this investor, who like several others didn't want to be identified, because they were all at one time intending to file lawsuits, said.
Some of them, who had been consistently told by Desai of how well the company was doing, with revenues of over $1 billion on tap, also were speculating as to where all of the money may have gone.
"Who the hell knows what he did with all the money," one said.
"Hundreds of millions of dollars and God only knows where the money went," this investor said, adding, mockingly, "He was living larger then life, flying in private jets and talking big to Romney and all those people, and of course, nobody wants to talk to him now, and all the politicians have washed their hands of him."
Some even speculated if all of the monies he contributed and bundled for the Romney campaign and as finance chair of the Florida GOP, could have been investors' money infused into Universal.
One reliable source told
Rediff.com
that he had been informed that the case has been referred to the US Attorney's Office of the Middle District of Florida for investigation.
The Tampa Bay Times reported that "Florida insurance regulators have long had suspicions about Universal Health Care, the nearly insolvent St Petersburg Medicare insurer the state now accuses of fraud, forgery, embezzlement and other illegal financial conduct."
An HMO, becomes a candidate to be taken over by the state, according to regulatory guidelines, if it has been a victim of "embezzlement, wrongful sequestration, conversion, diversion of encumbering of its assets, forgery or fraud or other illegal conduct."
The Tampa Bay Times quoted the Florida Office of Insurance Regulation's general counsel Belinda Miller, as saying that all of these violations applied in the case of Universal.
In an interview with
rediff.com
, Desai denied that he had been forced to resign his positions in the state and party by Scott and said he had done so of his own volition.
"I resigned myself to devote 100 percent of my time to deal with my company issue," he said.
"You have to realize, in business it requires more time and if I am not able to devote enough time for getting things done outside of my business, then the most prudent thing to do would be to resign and let somebody else who has more time to step in so they can do it."
Desai said all of his "energy and all of my efforts are now entirely focused in helping the company to do better."
"As you know, quite a few of my friends and family, they are also investors in the company and so, I am doing my best to make sure that nobody gets financially hurt."
As to the rumors that the case has been referred to the US Attorney's Office for investigation, Desai said, "I have not seen anything - either the company or me personally or any of the officers of the company. Nobody has brought in any allegations at all."
"As far as we go, the only thing is we have filed for bankruptcy - that is it. The state has asked the company to be put into receivership."