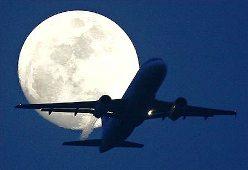 Indian carriers on Friday agreed to consider lowering air ticket cancellation and date change charges, as the government decided to create ombudsmen at Delhi and Mumbai airports to redress flyers' grievances.

At a meeting with airline chief executive officers and top officials here, the Civil Aviation Ministry also decided to amend Aircraft Act and Rules to safeguard the interests of aircraft leasing companies, many of which have started imposing stringent conditions for leasing planes to Indian carriers in the aftermath of Kingfisher Airlines shutting down.

Civil Aviation Secretary K N Shrivastava, who chaired the meeting, also suggested that domestic carriers should increase operations particularly to those states which have slashed taxes on jet fuel.

This was recommended at a meeting earlier this week in which the state governments wanted enhancement of air operations in lieu of their considering reducing value added tax on aviation turbine fuel.

The meeting was attended among others by top Ministry and DGCA officials, besides IndiGo CEO Aditya Ghosh, Air India Director Nasir Ali and senior officers of Jet Airways and SpiceJet.

On last week's hike in cancellation and date change charges by a couple of airlines to as high as Rs 1,500, Shrivastava said, "We asked them (airlines) to moderate it . . . reduce it and have a graded system."

A graded system would mean lower charges for cancellation or changing the date of travel well ahead of the original date for which the ticket was booked.

"The airlines have agreed to consider it and said they will come up with a formula soon."

Regarding a large number of passenger complaints, he said, "Time has come to implement the ombudsman system.

"We will have ombudsman set up in Delhi and Mumbai to begin with. Then, depending on experience, we will have them in major centres."
© Copyright 2021 PTI. All rights reserved. Republication or redistribution of PTI content, including by framing or similar means, is expressly prohibited without the prior written consent.