Allaying fears of foreign electronics manufacturers, India has said it will not pursue protectionism policy and will give level-playing field to all participants.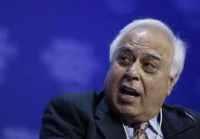 "Look at the policies of world around, we are far less protectionist than any other country in the world. There is no question of India becoming protectionist," Indian Telecom Minister Kapil Sibal said here on Monday.

The government is in the process of finalising an electronics manufacturing policy that would encourage the use of indigenous equipment and curtail India's import bill.

"There has to be a level playing (field) among players. (Does) India have level playing when foreign companies enter? They need to see that," Sibal said.

Recently, it approved a proposal that electronic products with minimum 25 per cent content from India should be given preference in government procurement in the first year.

He said the government is looking to ensure that dependency of India on imports is reduced over a period to cut trade deficit.

"We must make sure that in ultimate analysis, India does not have to import everything. Like other countries have done ... they have revved (revamped) their manufacturing capacities. That's exactly what we want," he said.

If India does not build manufacturing capacity, the import bill in this area alone will swell to USD 300 billion by 2020, he added.

The local value addition should be increased five per cent every year with maximum of 45 per cent over period of five years.

During his week-long trip, Sibal will meet telecom industry leaders and senior government officials of different countries.

"We are here to build confidence among investors...fact that India is market with enormous depth. Market itself is unsaturated, the investors should have confidence that India market has enormous potential and we will ensure that there is clarity of policy, so that they can make there long term plan and be in market for both, the good of their consumers and their own good," he said.

During the course of his visit, the minister is scheduled to meet officials from Bharti Airtel, Vodafone, Telenor and telecom equipment and product vendors makers including Ericsson, Shyam Telecom, Alcatel Lucent and Nokia Siemens Network.