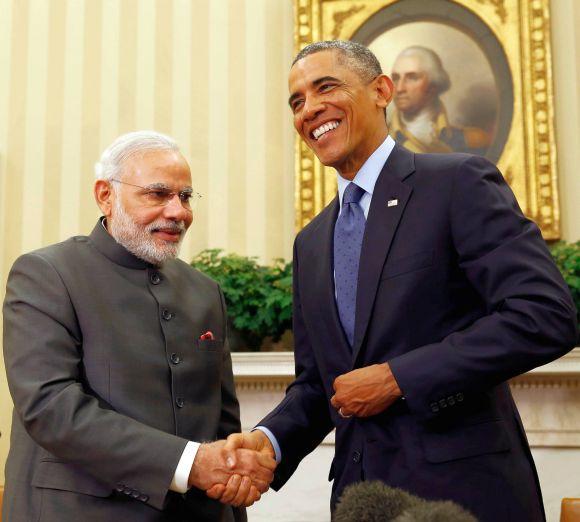 Image: US President Barack Obama shakes hands at a meeting with India's Prime Minister Narendra Modi.
Photograph: Larry Downing/Reuters
India and the United States settled a dispute on Thursday that had paralysed the World Trade Organization and risked derailing a $1 trillion package of reforms of global customs procedures.
The deal, which needs to be backed by all 160 WTO members, has resurrected hopes that the trade body can now push through those reforms, opening the way up for further negotiations.
India had plunged the WTO into the deepest crisis in its 20-year history in July by vetoing a deal on streamlined customs rules due to a lack of progress on its demands to be allowed to stockpile food without observing the usual WTO rules on agricultural subsidies.
That put the WTO's future in doubt just months after it appeared to have overcome decades of stalemate on the issue at a meeting in Bali in Indonesia.
"This breakthrough represents a significant step in efforts to get the Bali package and the multilateral trading system back on track," WTO director general Roberto Azevedo said.
"Implementation of all aspects of the Bali package would be a major boost to the WTO, enhancing our ability to deliver beneficial outcomes to all our members."
The International Chamber of Commerce (ICC), which has said streamlining customs procedures could add $1 trillion and 21 million jobs to the world economy, said the breakthrough would open the door to new trade talks.
"Today's breakthrough is a real victory for all of us: governments, consumers and business," said ICC Secretary General John Danilovich.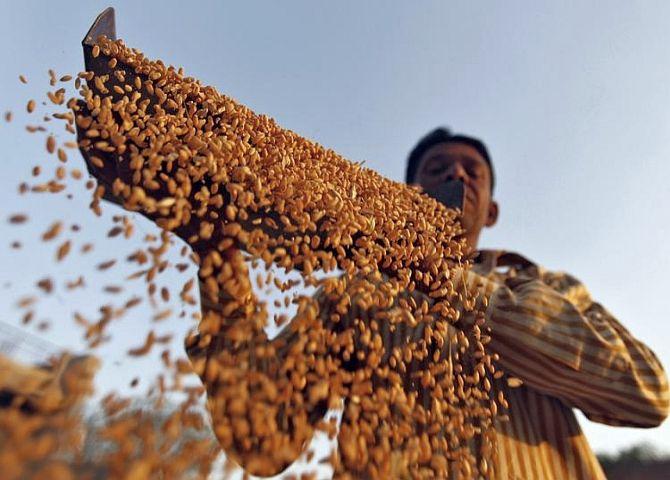 Image: A farmer sifts his wheat crop at a farm on the outskirts of western Indian city of Ahmedabad.
Photograph: Amit Dave/Reuters
Linda Dempsey at the US National Association of Manufacturers said the customs deal was "an unparalleled opportunity to boost global growth and commerce by the simple task of cutting red tape, streamlining border processing and adding transparency to customs operations worldwide".
The breakthrough is the second at the WTO in days, following a US-China pact to cut tariffs on IT products, also billed as a $1 trillion advance. It also comes hot on the heels of a US agreement with China on carbon emissions.
The US-Indian deal is likely to be hailed as a victory for India's Prime Minister Narendra Modi, who has stressed the importance of ensuring that its 1.25 billion people have enough to eat. His tough stance had also risked isolating him at his first G20 summit of world leaders in Brisbane, Australia, this weekend.
But Thursday's compromise included no major revision of the original WTO deal struck last December, which provided for India's food stockpiling to be shielded from legal challenge by a "peace clause".
A source familiar with the negotiation said the compromise replaced the "constructive ambiguity" about the duration of the peace clause with clear language that it would remain until a permanent solution was found.
"There's no renegotiation of Bali," the source said.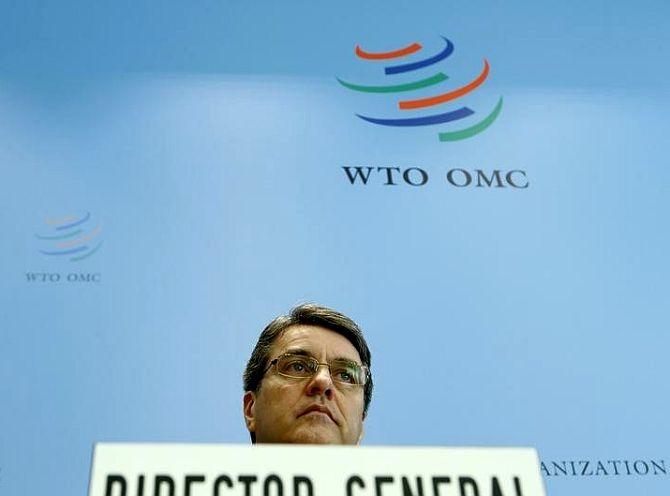 Image: World Trade Organization Director-General Roberto Azevedo attends a news conference.
Photograph: Denis Balibouse/Reuters
The peace clause is subject to disclosure requirements that India has not yet met and also requires that its policy does not distort trade.
Modi instructed aides early last week to strike a deal.
"From Modi's perspective, it's a major victory to say we've got an indefinite stay of execution on our food subsidy scheme," said Frederic Neumann, co-head of Asian Economics Research at HSBC in Singapore.
A food security law passed by India's last government expanded the number of people entitled to receive cheap food grains to 850 million.
In a recent disclosure to the WTO, India said its state food procurement cost $13.8 billion in 2010-11, part of the total of $56.1 billion it spends on farm support. Wheat stocks, at 30 million tonnes, are more than double official target levels.
(Additional reporting by Tom Miles in Geneva)