UK's largest retailer Tesco, Singapore Airlines and Etihad queued up to invest in India as a persistent UPA threw open more sectors to foreign investments with indications of more big ticket deals to be announced in the new year.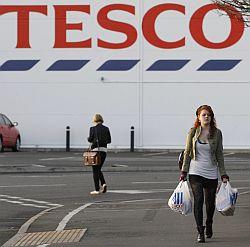 Prime Minister Manmohan Singh-led UPA government relaxed foreign direct investment (FDI) norms in almost dozen sectors including telecom, defence, PSU oil refineries, commodity bourses, power exchanges and stock exchanges.

Towards the close of the year, UK retail major Tesco submitted its application to initially invest $110 million in opening of supermarket chain with Tata Group's Trent.

Going by the words of Commerce and Industry Minister Anand Sharma, another European major is expected to soon come in the multi-brand retail trading.

Similarly, in civil aviation, Singapore Airlines and Malaysia-based AirAsia joined hands with Tata Group to launch two new air line services.

Abu Dhabi-based Etihad also picked up 24 per cent stake in Jet Airways worth over Rs 2,000 crore (Rs 20 billion).

Sharma has said that the government is looking to liberalise FDI policy in some more sectors including railways and construction development.

"We are looking at some more areas," the Minister told PTI.

Besides, the Department of Industrial Policy and Promotion (DIPP) is also expected to soon float a discussion paper on permitting FDI in e-commerce in retail trading.

However, in terms of foreign inflows, India has attracted FDI worth $16.85 billion during the January-September 2013 period, which is a dip of about 10 per cent over the same period last year.

India is projected to require around $1 trillion between 2012-13 and 2016-17, the 12th Five Year Plan period, to fund infrastructure growth covering sectors such as ports, airports and highways.

A decline in FDI would hurt the rupee, which had depreciated to a record low of 68.85 against the US dollar on August 28. It has strengthened since then to about 62 level.

According to experts, although the government has relaxed FDI norms in several sectors, the global players are waiting for the formation of the new government due around May-June
next year.
"In 2014, the next government will have to speed up the liberalisation process in order to attract more investments," Head of Tax department in corporate law firm Amarchand & Mangaldas, Krishan Malhotra said.
The DIPP has moved a proposal to allow FDI in the cash-starved railways sector, particularly for development of rail lines between project sites and existing network. At present, no FDI is allowed in the railways sector.
Further while on one hand, the DIPP relaxed the foreign investment policy, on the other it has also proposed to tighten the norms in the sectors like pharmaceuticals and royalty payments.
The department had proposed major restrictions in the pharmaceuticals sector due to continuous acquisition of major domestic pharma firms by multi-national companies. It has said that the current development in the sector would jeopardise the availability of affordable medicines in India.
However, the Union Cabinet has rejected the DIPP's concerns.
Although the industry complained about the investment climate in the country, some reports have ranked India as one of the most attractive destinations for FDI.
The global survey of leading consultancy firm E&Y has rated India as the most attractive investment destination followed by Brazil and China at second and third positions, respectively.
According to an UNCTAD' survey, India has retained its position as the world's third most attractive destination for investment by transnational corporations (TNCs) during 2013-15.
New Ficci President Sidharth Birla said: "We do not have a business-friendly environment. We have so many regulations". He has said that there was no problem with the policy, but there had been 'paralysis after policy', resulting in poor implementation of the policies.
In 2012 too, the global economic crisis forced the government to show animal spirit in liberalising FDI policy.
Last year. it had relaxed rules in sectors including multi-brand retail, single-brand retail, commodity exchanges, power exchanges, broadcasting, non-banking financial institutions (NBFCs) and asset reconstruction companies.