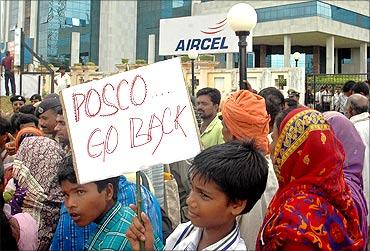 The government is working to expedite clearances to $12 billion project of steel major Posco in Odisha that was awarded environment clearance last week, Commerce and Indutry Minister Anand Sharma said on Tuesday.
So far, 1,700 acres of land - out of 2,718 acres – has been transferred to Posco and rest will soon be given, he told reporters after a meeting with visiting South Korean Minister of Trade, Industry and Energy Yoon Sang-jick.
"Yes, we have discussed that... We will do everything to have it expedited," he said, adding that clearances to the project was discussed in the meeting with the Korean Minister.
The Centre is in touch with the Odisha government for expediting grant of prospecting license of an iron ore mine in the state to Posco's steel project, he said, adding that he expects first phase of the project to take off soon.
"When it comes to the prospecting, comments of the Odisha government are with the Government of India and the same will be pursued. We will expedite that too, so that the stage-I (of the project) takes off," Sharma said.
The first phase of the project would attract more than 50 per cent of the total $12 billion (Rs 52,000 crore) investment from Posco, he added.
The Posco project is the biggest foreign direct investment (FDI) India had attracted. However, it was marred in controversies and issues like land acquisition and delay in clearances since its announcement in 2005.
Last week, the government granted the steel project the much awaited Environment Clearance with conditions, ending eight years of wait. The conditions include Posco spending 5 per cent of its investments ($600 million) on "enterprise social commitments" and delinking the steel project from the plans to have a captive port.
The company, which had originally announced to construct a mega steel plant of 12 million tonnes per annum capacity, has now divided it into 3 equal phases of 4 MTPA each due to land acquisition issues and delays in approvals.
Accordingly, it now requires 2,700 acres instead of the originally planned 4,000 acres to kick off the first phase of construction in Jagatsinghpur district. It has got the possession of 1,703 acres and rest of the 1,000 acres is to be transferred soon. Posco has already started construction of the boundary wall in the acquired area.
Moreover, the Odisha government is also looking to sign a fresh tripartite agreement with Posco as original MoU had lapsed three years ago. Since then, there is no formal agreement with the South Korean major for the proposed plant.
Last week, the state government had also decided to grant Prospecting Licence (PL) to company over Khandadhar iron ore mine. The project includes extraction of iron ore over 30 years and development of related infrastructure.
Last year, facing inordinate delays in land acquisition and local opposition, Posco had scrapped its proposed Rs 30,000 crore (Rs 300 billion) project in Karnataka.