With the proposed commissioning of a 50-Mw tidal power project off the coast of  Gujarat in 2013, India is ready to place its first "seamark" that will be a first for Asia as well.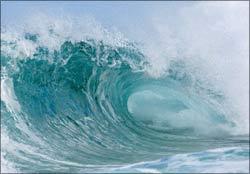 London-based marine energy developer Atlantis Resources Corporation, along with Gujarat Power Corporation Ltd, has signed a memorandum of understanding (MoU) with the Gujarat government to start this project.

The cost for the plant is expected to be in the vicinity of Rs 750 crore (Rs 7.50 billion). This plant is also is expected to be scaled up to 250 Mw.

Timothy Cornelius, CEO, Atlantis Resources Corporation, said with just about 2 giga watt of tidal power installations in the world today, this is a completely new and uncharted power sources with immense potential. "Tidal power today is what wind energy was 10 years back," he said.

Due to the high investment in setting up the project, a typical tidal power project is expected to break even between 8 and 12 years after commissioning.

Despite the long gestation period to make it commercially viable, tidal power has unparalleled environmental advantages.

"Tidal current power uses turbines to harness the energy contained in the flow of ocean tides. It is unique as like tidal movements, power output is highly predictable and sustainable with zero visual impact and the turbines are completely submerged. Tidal power is like putting a wind turbine subsea and the turbine rotors rotate slowly, causing very little environmental impact to marine flora and fauna," said Cornelius.

The power offtaker would be Gujarat Power Corporation. The final cost of power per unit will be determined at the completion of front-end engineering and design (FEED) phase, but was expected to be competitive when compared to the large solar power projects planned for development in Gujarat, the company said.

The project is currently owned by Atlantis and GPCL and project equity participants will be sought at the completion of FEED phase.

Late last year, Atlantis became the turbine supplier to the largest planned marine power project in the world, MeyGen, a 378-Mw tidal power project in the Pentland Firth in Northern Scotland.

Current estimates suggest 15 per cent of the world's power demands can be met by tidal current power sources, while the estimates for India are currently around 5 per cent of its annual demand for power.

"It is only an estimate, but it could be certainly more than 5 per cent, inclusive of wave power and tidal power, from what we know now. However, resource investigation has just begun and with so much coast line, I would expect this number to increase significantly," said Cornelius.

Sea water, which is 832 times denser than air, gives a 5 knot ocean current more kinetic energy than a 350-km an hour wind, thus allowing ocean currents to have a very high energy density.

Accurate predictions of tidal current movements also make this one of the most predictable and, therefore, reliable sources of renewable energy available today.