From Afghanistan to co-producing a fifth-generation fighter jet at a cost of $30 billion and sharing military signals from a satellite navigation system, India and Russia returned to the familiar comfort of their extraordinary past, with the promise to add new areas of cooperation in the hydrocarbon sector, as well as take forward discussions in the area of civil nuclear energy.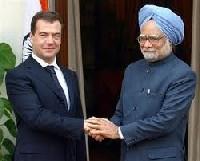 Prime Minister Manmohan Singh fêted Russian President Dmitry Medvedev over lunch at home on Tuesday, but before that a bagful of agreements were signed at Hyderabad House in the capital, as well as on the margins of the summit, signalling that the suspicion and mutual agreement, which has been a key feature of the recent past, now truly belonged there.

Topping the chart of 30 agreements is one on enhancing cooperation in the oil & gas sector, memoranda to fight illegal immigration and simplify visa procedures, as well as a design contract for a fifth-generation fighter aircraft.

"I am particularly glad that we have concluded an inter-governmental agreement on cooperation in the oil & gas sector. This is the result of a lot of hard work put in by both sides, and reflects the complementarities between our two economies," the Prime Minister said.

Medvedev's visit to India - he goes to Mumbai from Delhi tomorrow via the Taj Mahal in Agra - brings the curtains down on a particularly busy diplomatic season in which Delhi has over the last six weeks played host to four of the world's most powerful leaders.

But what is fascinating about the Russian leader's visit is that expectations have been so low in the India-Russia relationship recently, that the fact that both sides were able to agree to a slew of outcomes marks a return to pragmatism in which both sides seem to have realised that the advantages of forging new paths outweigh their differences.

As the US broke new ground with India in recent years, especially on the back of the nuclear deal with New Delhi, the partnership with Russia seemed to slag.

But the strategic orientation of India's foreign policy, with energy security and concerns around terrorism at the core, have had the effect of turning its head towards Moscow once again and finding that Moscow would also like to reciprocate.

For several years, for example, Russia has not wanted to discuss Afghanistan with India, but with NATO-ISAF forces now publicly announcing their decision to withdraw by 2014, Moscow realises that it must forge a new conversation around this subject, especially since both Russia and India are victims of both terrorism and drug-dealing.

It's clear too that Russian Prime Minister Vladimir Putin is driving this return to a revivified relationship at Moscow's end, while in New Delhi a variety of factors are combining to persuade the Indian establishment to look anew at this old friendship.

One reason is that Russia remains India's oldest partner in the civil nuclear and defence sectors. Despite New Delhi's intention to diversify and buy armaments from the West, especially the US, Russian offers to share information and technology in its satellite navigation system GLONASS, for example, is both "unique and unprecedented," analysts said.

A Russian analyst, who spoke on the condition of anonymity, told Business Standard that although the GLONASS agreement was first signed between India and Russia in 2.04, it is only now that it has reached fruition.

In the interregnum, India has experimented with the GPS system (from the US) for civilian use, but now that Russia's space centre was offering Indian Space Research Organisation the use of GLONASS, India's access to its sophisticated military tracking signals meant that "India could, if it wanted, bomb a match-box in Waziristan."

India is the only country in the world with which Russia has shared this military technology, the Russian analyst said. Clearly, India's interest in the Russian system has quickened after the Mumbai attacks, Indian sources added.

The agreement on the exploitation of the hydrocarbon sector, as well as a separate one between ONGC Videsh and Russia's Sistema, is an example of how both countries are now hoping to jointly exploit their natural resources.

As for discussions on civil nuclear energy, which have hit a road-bump with the passing of the nuclear liability law in the monsoon session of Parliament, both sides are keen that such legislation does not come in the way of Russia expanding its presence in India's civil nuclear sector.

It is likely that the Indian side would have reassured the Russians that the "international convention" on nuclear matters, such as the 1963 Vienna Protocol, would take precedence in any dispute following a nuclear accident on the question of supplier or operator liability.

India is still framing its rules and procedures following passage of its liability law in Parliament, and compromise formulae are being worked upon, Indian sources said.

However, an agreement on cooperation between Russia's Rosatom and the department of atomic energy on R&D in reactor technology and nuclear research was also signed by their respective departmental heads, Sergey Kiriyenk and Srikumar Bannerjee.

Perhaps the major drawback of the Manmohan Singh-Medvedev summit on Tuesday was its inability to forge a concrete roadmap to revive the economic relationship, although a couple of MOUs were signed on promoting pharma and IT-related services.

Investment in each other's countries is an abysmal $1 billion each, while trade remains at a lowly $7.5 billion. Even the target of increasing trade to $15 billion by 2015 is modest at best, even though the Trade & Investment Forum met in Delhi yesterday in an effort to galvanise matters on this front.

Interestingly, the India-Russia CEOs Council, which didn't meet on the margins of this summit due to "scheduling problems," according to Indian officials, is co-chaired by Vladimir Yevtushenkov on the Russian side, whose company Sistema was part of a framework agreement with ONGC Videsh.

In fact, Indian co-chair Mukesh Ambani's Reliance Industries also figures with a joint venture with Sibur, a subsidiary of the Russian oil & gas giant Gazprom, for the setting up of a butyl rubber manufacturing in India.