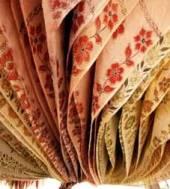 In an unprecedented move, India is planning to drastically slash tariff on import of textiles from Pakistan in an effort to normalise trading relations between both countries.

Currently, India imposes 30-45 per cent duty on textile products from Pakistan.

The government is planning to bring it down to five per cent and has not ruled out the option of allowing duty-free access too.

This would be done by reducing the sensitive list of items India maintains for Pakistan, under which certain items are not allowed from there.

This list is maintained under the South Asian Free Trade Agreement.

"Once the reduced sensitive list under Safta is notified, most of the textile lines would be out, for the benefit of Pakistan.

"We might bring it almost to the level of Bangladesh," said a senior commerce department official involved in the process.

In 2011, India allowed duty-free access to Bangladeshi garments and apparel products.

This, however, would be done only when Pakistan grants most favoured nation status, or non-discriminatory market access, to India, the official added.

Pakistan's global exports basket has been dominated by products from the textiles and clothing sector, which, however, is not consistent with its exporting pattern to India.

These products are found listed in India's sensitive list, thus restricting the possibility of Pakistan being able to formally export these products.

The main items of informal trade from Pakistan
to India are textiles and garments.
Interestingly, the new Pakistani government under Prime Minister Nawaz Sharif has renamed the official name of their Ministry of Commerce to Ministry of Commerce and Textile Industry, probably to highlight the importance of the industry to the world.
While Sharif is himself handling the commerce portfolio, Qasim M Niaz has been appointed the new commerce secretary.
Nisha Taneja of the Indian Council for Research on International Economic Relations said, "Pakistan's textile export basket is small.
"It depends on what products under this category would be opened up by India, which is crucial. They are heavily banking on textiles.
"And, I do not see a problem in granting them easy access because if we can take on Bangladesh, then there would be no problem with Pakistan."
Pervez Lala, chief executive officer of a Pakistani apparel brand, Lala Textiles, which recently participated in an exhibition in Surat, told
Business Standard
Pakistani textile importers also had to face several non-tariff barriers in India, which affected their business.
This issue of granting preferential market access to textile imports from Pakistan was discussed last month during the first joint business council meeting in Islamabad.
REMOVING BARRIER
'Centre is planning to bring down import duty to 5% 'In 2011, Bangladesh was allowed duty-free access to garments and apparel products 'The main items of informal trade from Pakistan to India are textiles and garments 'Pakistani textile importers face several non-tariff barriers in India, which affects their businesses