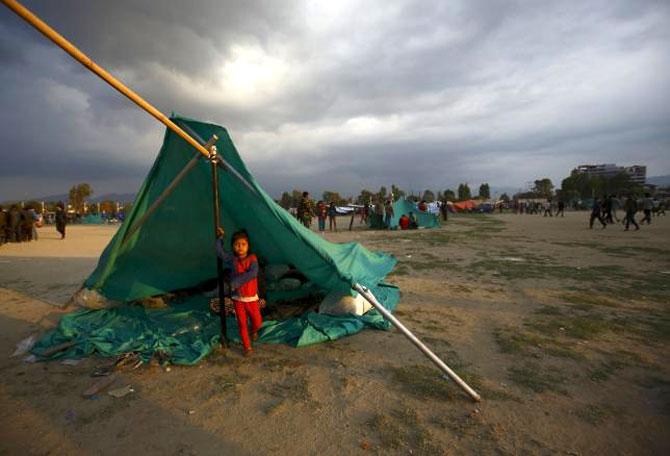 Two Indian-origin billionaires in the UK have offered to build 1,200 quake-resistant houses in the affected villages of the country.
Mukesh Kumar Sehgal, managing director of UK-based SISMO Company offered 1,000 quake-resistant houses, while, Shree Prakash Lohia, founder and chairman of Indorama Corporation offered to build 200 houses through his Lohia Foundation.
Sehgal met Nepal's Acting Ambassador to Britain, Tej Bahadur Chettri, on Friday and offered to build 1,000 quake-resistant houses in Nepal, Ekantipur reported.
"Our company is well experienced in building houses with new technology and if Nepal government accepts the offer, he will start construction of houses in remote areas that are severely hit," Sehgal said.
"Initially we will construct temporary houses so that affected people can be relocated. Later once debris is cleared, we will build the new settlement," Sehgal said.
Meanwhile, Nepali billionaire businessman Upendra Mahato has announced Rs 150 million in assistance for the relief and rehabilitation of the earthquake victims.
Mahato is the founding President of Non Resident Nepali Association.
"Rs 30 million will be spent on immediate relief package such as tents, food stuff and clothing. He said Rs 120 million will be spent for the construction of quake-resistant school buildings in the highly affected region," he said on Saturday.
The number of houses destroyed in quake-hit Nepal is over 160,000, nearly twice the number of households wrecked in the 1934's deadly temblor that has been the country's worst disaster of all times.
At least 7,056 people have been confirmed dead from the 7.9-magnitude quake while the number of injured has reached 14,227, making the April 25 temblor the country's worst in over eight decades.