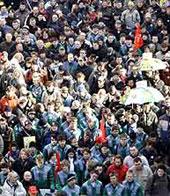 India can boast of a quarter of the world's workforce by 2025, provided the country harnesses the potential of its young and productive population, a study by staffing firm TeamLease Services said.
A conducive labour situation could also help push the nation's per capita income to a $4,100 (around Rs 1,87,554 at an exchange rate of Rs 45.74 per dollar) by 2025, according to the 'India Labour Report 2009', released in partnership with IIJT Education.
The report, however, stated that a radical reform of the country's labour market ecosystem (including labour demand, labour supply and labour laws) is required for converting individuals into productive people comprising the workforce.
The population of productive people is referred to as the demographic dividend of the country.
"If we harness this dividend by 2025, India will not only have 25 per cent of the world's total workforce, but our per capita income will be $4,100," the report said.
"This would rise to $9,802 in 2040 and $20,836 in 2050. This will finally put poverty in the museum it belongs," it added.
The report cautioned that the demographic dividend would become a disaster if India does not radically overhaul the labour ecosystem to enhance the productivity of the growing workforce.
"India's geography of work is creating a tragedy because jobs are being created in different areas from where people who need them are. But demographics are not destiny and states can bend the curve with a radical overhaul of their education, employability and employment regime," TeamLease Services chairman Manish Sabharwal said.
If reforms are not initiated, it is expected that much of the country's demographic dividend would occur in states with backward labour market ecosystems.
It is expected that between 2010-20, Uttar Pradesh, Bihar and Madhya Pradesh would see the percentage of their population in the 15-59 age group increase by 40 per cent, though they would only enjoy a 10 per cent rise in income.
During the same period, Maharashtra, Gujarat, Tamil Nadu and Andhra Pradesh would account for 45 per cent of the rise in GDP, but less than 20 per cent of the addition to the total workforce in the 15-59 age group.
The study has also ranked states on the basis of improvement in their labour ecosystems in terms of state efforts in various areas like education and training, infrastructure, governance and the legal/regulatory structure.
"Aggregate labour ecosystem index shows the top three performers are Andhra Pradesh, Karnataka and Maharashtra and each has had significant improvements in index values and ranks," the report stated.
Delhi and Gujarat have been ranked at fourth and fifth place, respectively, in the Labour Ecosystem rankings.
The report found that almost all states have made significant improvement in the 2000s, including Bihar.