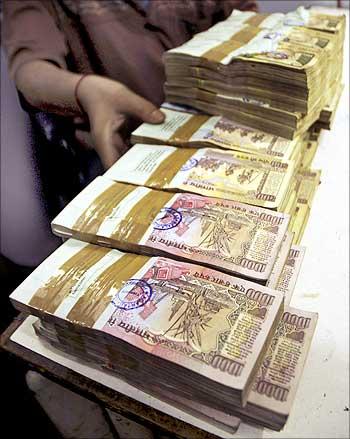 Businesses in India recorded losses worth a whopping Rs 6,600 crore (Rs 66 billion) in the last financial year, with a significant portion of these frauds occurring in the financial services sector.
About 63 per cent of the fraud cases in FY12 were reported in the financial services sector.

Banks were the most common victims, followed by insurance and mutual fund companies, according to Fraud Indicator, a first-of-its-kind report by consulting firm Ernst & Young.

The report attributes the high number of frauds in the financial sector to oversight from the senior management, deviation from processes, lapses in the system, etc.

"With banks and NBFCs (non-banking financial companies) still struggling to recover from the 2008 financial crisis, it's a double blow for them - they are being exposed to increasing incidents of frauds, loan scams and regulatory bodies raising questions against the soundness of their compliance practices," said Arpinder Singh, partner, Ernst & Young, and national director, Fraud Investigation and Dispute Services.
The report shows losses incurred by banks due to fraud rose 88 per cent in 2010-11, exceeding Rs 3,790 crore (Rs 37.90 billion).

About 79 per cent of the major fraud cases (cases worth more than Rs 1,000 lakh) were due to the involvement of senior managements of companies and their direct interference in the company's decisions. The total value of frauds against investors was about Rs 2,700 crore (Rs 27 billion).
Singh said there was an increase in the magnitude of frauds in the country in the second half of FY12, with the value of such incidences rising 36 per cent compared to the first half the year and the number of fraud cases rising eight per cent in the same period.
Fraud Indicator looks at frauds in various areas - businesses, government segments and individuals. About 1,80,000 instances of frauds reported in the media were analysed for the study.
"What we found alarming in this edition was insider-enabled frauds accounted for 61 per cent of the reported fraud cases. Entrusting your employees with confidential information, giving them a right to access the company's bank accounts, etc, may be essential, but this should be done with some scepticism. This makes it imperative for companies to take some ground-breaking steps like monitoring employee behaviour and taking appropriate action against rogue employees," Singh said.
With fraud cases reported in 24 of the 29 states and the difference between Tier-I and Tier-II cities (47 per cent and 53 per cent, respectively) very small, it is evident frauds were reported across the country.

Delhi saw the highest number of frauds, as well as the highest aggregate losses by fraud in 2011-12. It also recorded the highest average losses (Rs 80 crore), followed by Andhra Pradesh (Rs 50 crore).