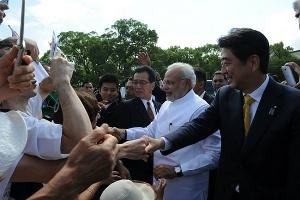 Talks to expand India-Japan trade pact remain a work in progress, even as trade deficit with Japan widens, says Nayanima Basu.

The much-awaited review of the India-Japan comprehensive economic partnership agreement (Cepa) remains stuck over the issue of giving Indian drug companies more access to the Japanese pharmaceutical market.
This is even as India has raised the issue of soaring trade deficit with Japan during Prime Minister Narendra Modi's visit to that country.

Modi's Japan visit, from August 30 to September 3, was expected to yield some far-reaching results for India's business community and traders at large.
But the talks to expand Cepa — at least insofar as pharmaceutical exports are concerned — have remained a 'work in progress', much like other important unfinished items on the prime minister's agenda, such as the civil nuclear agreement negotiation and defence deals.

Under the Cepa, signed in February 2011, Japan accords national treatment to Indian drug makers vis-à-vis its domestic manufacturers but does not recognise pharmaceutical products exported by India to that market under a preferential tariff regime in terms of standards and quality.

National treatment to Indian pharma companies becomes irrelevant in the absence of a mutual recognition agreement (MRA) and easier regulatory guidelines. Under MRA, Japan is to recognise Indian medical degrees and treat the country's doctors and other medical personnel on par with its own.

Besides, Indian bulk drug makers have been trying to enter the Japanese market with their exports for long. Active pharmaceutical ingredient makers have been awaiting approvals from the Pharmaceuticals and Medical Devices Agency, that country's drug regulator. This has proved a major non-tariff barrier for Indian drug exporters.

"India has repeatedly told Japan that its pharmaceuticals will immensely benefit the people there by providing affordable health care.
Also, we have a huge pool of trained pharma scientists, doctors and researchers.
This could open avenues for joint collaborative research and new drug discoveries, along with joint IPRs (intellectual property rights).
But nothing has progressed on this front during the prime minister's visit," a senior official involved in the matter, who did not wish to be named, told Business Standard.

The official said Japan was "deliberately" delaying the matter because it was a member of the Trans-Pacific Partnership Agreement, a mega trade pact currently being negotiated by 12 countries — the US, Japan, Australia, Brunei Darussalam, Canada, Chile, Malaysia, Mexico, New Zealand, Peru, Singapore and Vietnam.
Under this deal, the members are planning to introduce stricter patent and IPR laws, especially in the pharma sector.

Interestingly, there was no mention of the India-Japan Cepa during Modi's joint press briefing with Japanese counterpart Shinzo Abe in Tokyo on Monday.
But the issue was on Tuesday raised at the Japan-India Business Leaders Forum, under the aegis of the Confederation of Indian Industry.

Indian industry leaders on Tuesday urged Japan to sign the pending MRA in the pharmaceutical sector to enable the two sides to identify the testing procedures and standards used in the other country for their goods.

In July, India had also showcased its prowess in the pharmaceutical sector at the 27th International Pharmaceutical R&D and Manufacturing Expo, jointly organised by the Ministry of Commerce and Industry and the Federation of Indian Chambers of Commerce and Industry (Ficci), in Tokyo.

Pharmaceuticals form an important part of the India-Japan Cepa, also because India is running a huge trade deficit with that country.
According to another official, Modi apparently raised the issue of addressing the soaring trade imbalance during his visit.

India's trade deficit with Japan, which was $3.6 billion in 2010-11, before the Cepa implementation, almost doubled in 2012-13 to $6.3 billion.
Its exports to that country in 2012-13 was $6.26 billion, compared with imports of $12.50 billion. Two-way trade between the countries plummeted to $16.3 billion in 2013-14 from $18.5 billion a year earlier.

The matter was strongly taken up by Commerce & Industry Minister Nirmala Sitharaman during her meeting with Kazuyoshi Akaba, Japan's state minister for economy, trade and industry, on July 31.

Before that, the issue was discussed in January last year, during Abe's visit to India, and followed up later by the previous government at successive meetings.

According to commerce & industry ministry data, India exported $56.71 million worth of pharmaceutical products to Japan in 2013-14.
This was 15.31 per cent less than the previous year's $66.96 million.

Though India has not been able to increase its pharma exports to that country, a handful of Indian drug firms are increasing their footprints there.
Among recent investments by Indian companies in Japan, Lupin acquired a 90 per cent stake in Osaka-based generics firm, Kyowa Pharmaceutical Industry, for $85 million. Also, Zydus Cadila acquired Nippon Universal Pharmaceutical.