'We were taking the Starbucks experience from the store to the home.'
Even as restaurant chains and standalone eateries buckled under the brunt of two consecutive lockdowns induced by a global pandemic, Tata Starbucks, the Seattle-headquartered coffee chain giant that has partnered with the largest conglomerate in India, says it is on track with its growth plans.
"We have continued to grow over the last 12 to 18 months, and we are now at around 240 stores in 20 cities, with around 2,000 partners at the store level," says Sushant Dash, Tata Starbucks president.
The company saw sales grow 128 per cent last quarter and delivery revenue -- earnings from home deliveries -- rise 17 per cent, he added.
"We have continued to be very bullish and have actually looked at expansion with the same vigour. In fact, if I look at a 12-month period, we opened around 37 stores, which is the highest in 12 months since inception, and we have gone to nine new cities since August 2020," Dash says.
These include Jaipur, Kanpur, Indore, Bhopal, Ludhiana, Kochi, Amritsar, Lucknow and Vapi.
Major competitors in terms of cafe outlets for Starbucks are Cafe Coffee Day (572 cafes in 165 cities and 333 kiosks), Blue Tokai Coffee (39 outlets across India), Costa Coffee, Baristas Coffee Company and McDonald's McCafe.
And major competitors in the packaged coffee segment are Blue Tokai Coffee, Davidoff Coffee, The Indian Bean and The Coffee Co.
"Two things happened with Starbucks -- it took the advantage of falling retail real estate prices, and in addition its strong cash reserves led it to be better prepared for downturns,"says Anurag Katriar, trustee, National Restaurant Association of India.
"Anyone looking at the long haul would see downturns as opportunities. In addition, hygiene and trust have become supremely important in our present world. Most people would go to a Starbucks versus an ABC cafe because of its consistent hygiene and quality standards," he adds.
The coffee market in India is broadly divided into two categories: Packaged coffee and cafe chains.
The packaged coffee market is growing at a compound annual growth rate of 10 per cent for the past five years in India.
The Indian cafe chain market is expected to be worth Rs 4,450 crore (Rs 44.50 billion) by 2023.
Starbucks has made an impact in terms of its cafes, but is limited to coffee-bean packaged products when it comes to packaged coffee -- a category in which, for example, it has very few offerings in the instant coffee segment.
What helped the coffee chain drive revenue and traction with customers? One factor Dash pointed to was the Starbucks Mobile Order and Pay app launched last year.
"That offered customers the option of pre-ordering and picking up their beverage from a nearby Starbucks store, reducing the time they spent in ordering lines and their interactions," he says.
"We introduced things like contactless ordering so you can scan a QR code outside of all the stores. Using WhatsApp-based can-order pay solutions made that easier to transact."
It also helped that Starbucks added ice-cream in takeaway tubs and one-litre bottles of beverages during the lockdown keeping in mind that consumers were home-bound.
"In effect, we were taking the Starbucks experience from the store to the home," Dash says.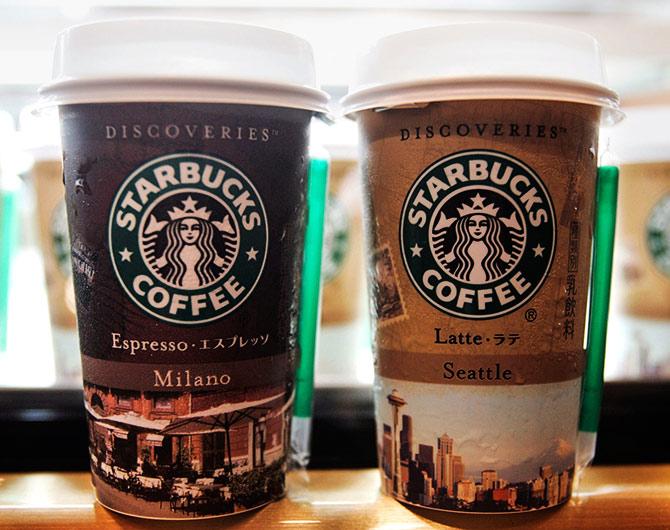 Starbucks also allowed for curbside delivery or for customers to walk to a nearby store and collect their orders.
Then it deepened its engagement with aggregators in terms of delivery.
"We have launched our merchandise in e-commerce, so we are now available on Tata Cliq Luxury and on Flipkart," Dash says.
Also lending support was smart marketing gimmicks. In India recently, in terms of sustainability, the company announced it would give customers a reusable mug free so that they come back and use that mug and help in reducing plastic usage.
Of course, supplies of the mug ran out in a matter of hours but Dash admits that it led to one of the highest sales ever in a single day in terms of numbers. It gave away 45,000 mugs on October 2 this year.
The other ace up Starbucks' sleeve has been its rewards and loyalty programme.
That has also grown by almost 20 per cent for it year-on-year. Two years ago, it had 650,000 members.
"Now, in India we are nearly reaching a million in terms of the total number, which is a phenomenal number. It is a win-win," Dash says.
What Starbucks offers is upgrades, customisation, free drinks and snacks to regular spenders, and on their birthdays.
For a beverage company, will it have to be the brick-and-mortar route or a combination of e-commerce and the omnichannel model to drive sales?
"We cannot say anymore that it will be only brick-and-mortar or delivery. There are issues we need to work on to improve the experience in terms of delivery, but the experience people had 12 months back and what they have had over the last three months has changed drastically,&" Dash points out.
The company started focusing on the basics, which were delivery time, whether products are at the right temperature when they arrive, and spillage.
"So, if you order, let's say, right now, you will realise that our packaging has completely changed. I'm not saying that we are 100 per cent there; there is always scope for improvement, but our packaging from what it was 12 months back has drastically changed and is now almost spill-roof," says Dash.
One challenge that persists? Of course, growth always comes with challenges and one of them is getting the right real estate, which then ties into making sure the customer gets the right experience, and which is always a balancing act when factoring growth in, Dash says, but adds, "We will continue to focus aggressively in terms of expansion to newer markets. You will see many more new markets opening up over the next three to six months."
"India is one of Starbucks' top five fastest-growing markets."
Feature Presentation: Rajesh Alva/Rediff.com