PM promised a tax regime that is predictable and competitive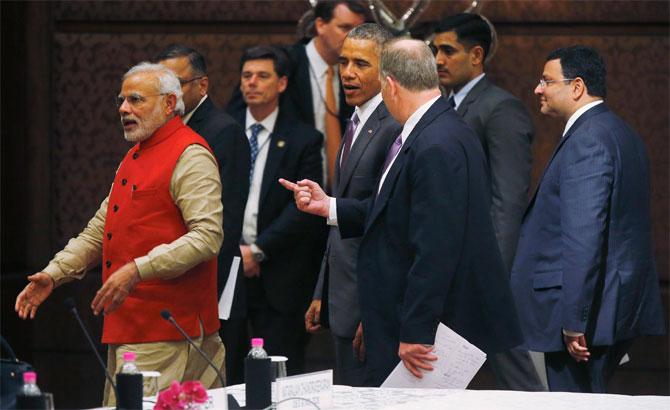 Image: Prime Minister Narendra Modi (L) leaves with US President Barack Obama (C), Honeywell CEO Dave Cote (3rd R) and Tata Group Chairman Cyrus Mistry (R) at the conclusion of a CEO Roundtable and Forum at the India US Business Summit in New Delhi.
Photograph: Jim Bourg/Reuters
Prime Minister Narendra Modi on monday promised an open business environment, predictable tax regime and to remove "remaining uncertainties" as President Barack Obama raised issues of trade barriers and intellectual property while seeking ease of doing business in India.
Modi asserted that his government has removed some of the "excesses of the past" and said "we will now soon address the remaining uncertainties", an apparent reference to the retrospective taxation law of the previous government that put off global investors.
Pledging $4 billion in lending by US banks, Obama said the US is ready to help India grow by working with it in development of infrastructure like railways, ports, roads and clean energy power plants.
Both the leaders were addressing a meeting of the US-India Business Council on the second day of the US President's visit that was attended by top corporate leaders of both the countries.
Earlier, addressing a meeting of India-US CEO Forum that he would personally take charge of implementation of big projects and monitor them.
"You will find environment that is not only open, but also welcoming. We will guide you and walk with you in projects. You will find a climate that encourages investment and rewards enterprise. It will nurture innovation and protect our intellectual property.
"It will make it easy to do business.... You will find a tax regime that is predictable and competitive. We have removed some of the excesses of the past. We will now address the remaining uncertainties," Modi said at the USIBC meeting.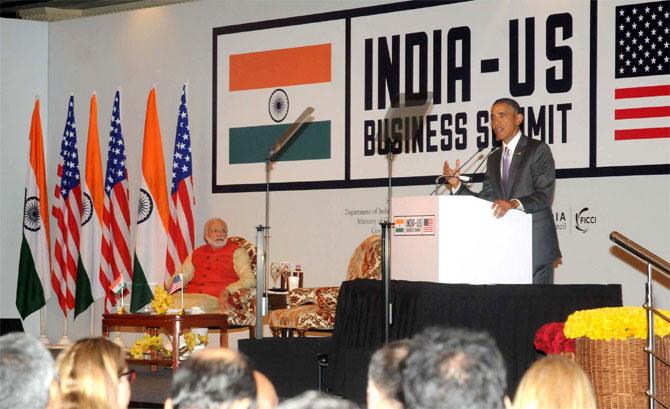 In his speech, Obama said specific things that need to be done by two countries is to make it easy for doing business in both the countries.
"There are still barriers," he said adding there was a need to streamline regulations, cut the red tape and jump through bureaucracy.
The US President announced $4 billion investment in India including $1 billion for financing exports from US to aid Make-in-India programme here, a similar amount for small and medium industries and $2 billion in renewable energy projects.
Appreciating Modi's reform initiatives to bring investments, he said, "We need to incentivise trade rather than stifle. We need to be transparent, consistent and protective of intellectual property rights."
"We can work together to develop new technologies to help India leap forward and partner in next generation clean energy projects and upgrade railways, roads, ports, airports and broadband connectivity to provide best connectivity to the world," he said.
He also referred to the three smart cities that US would be helping India in setting up and upgrading infrastructure.
Reviewing his visit, Obama said the two countries have "a number of concrete" steps for more investments and referred to breakthrough in civil nuclear agreement, defence cooperation, renewable energy and bilateral investment protection treaty (BIPA).
"When leaders make agreements, our agencies and bureaucracy will follow through," he said. "We can grow and we can prosper together."
Obama referred to the current bilateral trade of $100 billion and compared it to US-China trade of $560 billion saying, "it can give you idea of what potential India can unleash."
"We have to make sure that growth remains inclusive and is sustained. Growth has to make people's life better in tangible way," he said adding growth cannot be measured in GDP figures and bottomline of balance sheets.
© Copyright 2021 PTI. All rights reserved. Republication or redistribution of PTI content, including by framing or similar means, is expressly prohibited without the prior written consent.