India Inc is likely to go slow on its hiring plans in the first three months of the new calendar year largely due to sluggish domestic growth rate and economic uncertainty in the international markets, a survey says.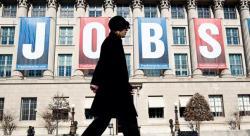 According to the TeamLease-Indian Institute of Job Training (IIJT) Employment Outlook Report for the January-March 2013 quarter, both the net employment and the business outlook have registered a two and 1-point drop in their indexes respectively. This indicates stagnant hiring outlook in the forthcoming quarter.

According to the report, though attrition has been brought under control, job-hopping is still prevalent among employees - pushing companies to incorporate various performance-based rewards as well as career enhancement activities.

"The slow GDP growth rate coupled with the recession in international market seems to be taking its toll on the employment scenario," TeamLease Services senior vice president and co-founder Sangeeta Lala said.

The bleak outlook is, however, likely to be limited to January-March 2013 quarter only as the reforms push by the government in mid-September across various sectors like retail, banking among others, is expected to cheer the market and drive the employment outlook upwards.

"The
recent reforms announced in the various sectors are expected to lift the market and result in more employment in the future. We are confident that the outlook for the next quarter cannot be extrapolated for the entire 2013-14 fiscal," Lala said.
She further said, "Business and employment sentiments can change significantly over two quarters if the macroeconomic factors play their part."
A perception of strong domestic growth that can be triggered by monetary policy easing as well positive global cues can change this current sentiment, Lala added.
From a sector perspective, with the exception of infrastructure, IT & ITes - the employment outlook seems to be flat across most of the sectors.
Bangalore has been reported as the worst affected city in terms of employment as well as business outlook. The employment outlook in Bangalore has depreciated from 75 in the last quarter to 72 in the current quarter, TeamLease said.
The report said though the employment outlook is largely muted across most of the sectors and functions, there is a growing demand for superior or better quality skills such as accounting, book keeping, administrative and legal experts.
The TeamLease-IIJT Employment Outlook Report conducted with HR managers and senior management of leading companies covered 640 companies.