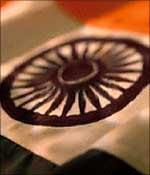 The term 'roadblock' may derive from offline traffic terminology, but in advertising it means something quite different -- exclusivity in any number of advertisement slots for a single client over a given period of time.
Though popular abroad, companies in India seem to have just woken up to the virtues of 'roadblocks'. Consider this: a fortnight back, German car maker Volkwagen 'blocked' Times of India, the largest national English daily.
Sixteen editions of the paper carried nine pages of ads solely dedicated to the car company. Volkswagen Chief General Manager, Marketing and PR Lutz Kothe says the objective of the campaign was to build the brand foundation to enable the company achieve volume sales at a time when it is launching a host of new cars in India.
The Volkswagen move was the latest in a series of such "roadblocks" by Indian companies. Hindustan Unilever took the cake by buying time across two rival television networks, Star and Zee.
On September 17, it bought spots across 10 Star India channels to advertise its skin care products. A week later, it conducted a similar campaign on 25 channels of the Zee Network. A month prior to that, Cadburys bought three days exclusive airtime on MTV.
Airtel was the first off the block this year by inking a deal with RK Cineplex in Hyderabad's plush Banjara Hills, under which the mobile company got exclusive advertising and naming rights for a period of two years. The mall itself has been renamed Airtel RK Cineplex, comprising Airtel's mobile, Direct-to-home and broadband stores. Reportedly, the mall gets about 5000-6000 visitors a day.
The last such 'roadblock' was by Airtel's competitor, Vodafone, which in 2007, created multiple 10 second campaigns and ran it for 24 hours across 13 channels on Star.
"As our message was relatively simple and the communication was endearing, we wanted it to get across to the maximum number of people in the shortest possible time," says the company's chief marketing officer Kumar Ramanathan. "Overnight people knew that Hutch had become Vodafone."
The jury is out on whether roadblocks are worth the money spent. HUL, for example, spent Rs 8-9 crore (Rs 80-90million) a day on the initiative. Typically, a 10-second spot could cost anywhere up to Rs 10,000. HUL is reported to have paid a 100 per cent premium on that.
The company has a point when it says that the exclusivity in advertising helped it reach more than 100 million viewers in the country. HUL used about 40 hours of advertising time showcasing around 4,500 advertising spots a day. "It is innovative and will bring stronger engagement with consumers," says HUL's media services general manager Srikanth Srinivasamadhavan.
But there are others who feel it's an expensive short-cut which does not give enough bang for the buck. For example, rival Godrej Consumer Products would much rather be present continuously than burst in and out. "Our industry needs a constant stream of continuity.
"A roadblock is a one-off initiative that can send budgets haywire," the company's vice-president (marketing), V Suresh says. According to him, the cost-effectiveness of a roadblock initiative is debatable as while the hype may be there, it is usually temporary and hampers advertisers' in sustenance advertising.
GCPL reportedly spends about Rs 70 crore (Rs 700 million) towards advertising in a year. HUL's two-day roadblock cost the company a fourth of Godrej's overall advertising expense.
Anand Halve, co-founder of brand consultancy firm Chlorophyll says roadblocks are the quickest way to gain maximum recall but discretion needs to be used while executing it. "Unless it is for some truly momentous news, a radical offering or one wants to take the wind out of a competitors' sails, a roadblock makes little sense," he points out.