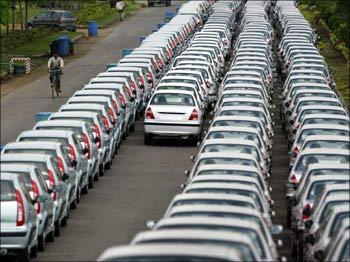 India Inc believes the economy is faring better and is optimistic about demand rising, shows a survey by the Federation of Indian Chambers of Commerce and Industry (Ficci).
However, companies remain concerned over the high cost of credit and difficulties in sourcing it.
Ficci's latest Business Confidence Survey showed that companies have improved their assessment on current conditions and expectations from the next six months, till March. It had responses from 181 companies, with annual turnover ranging from Rs 2 crore to Rs 80,000 crore, from a wide array of sectors.
The proportion of respondents who said current economic conditions were 'moderately to substantially better' vis-à-vis the earlier six months was 63 per cent. This was 48 per cent in the earlier survey, published in August.
And, 60 per cent of respondents said their company was faring better, compared to the previous six months, up from 51 per cent in the earlier survey.
This was on account of rising demand, with the majority of surveyed companies saying the demand pulse was gradually gaining strength. "Good monsoon and Pay Commission award will give a further trigger to demand," the survey added.
However, 46 per cent of participants still say weak demand is an impediment, albeit much less than the 59 per cent who said so in the earlier round.
Expectations regarding the performance of the economy in the next six months went up, with about 75 per cent positive on growth, up from 66 per cent. This was backed by 63 per cent of respondents who believed their sector would do better and 70 per cent who expected the same thing from their companies over this period.
However, 54 per cent reported the availability and cost of credit to be a bothering factor. The corresponding number in the previous round was 46 per cent. In addition, 29 per cent of companies said availability of credit was an issue compared to 24 per cent stating likewise in the previous round.
On sales prospects, 62 per cent of participating companies said they expect higher numbers over the coming six months, up from 55 per cent. Higher disposable income with consumers, along with onset of the festive season, is expected to drive sales.
A marginal increase of two per cent was seen regarding companies expecting a rise in investments, with 41 per cent of respondents saying so.
Photograph: Reuters.