Corporate India's merger and acquisition deal activity stood at $1.74 billion in April taking the total M&A kitty so far this year to $21 billion.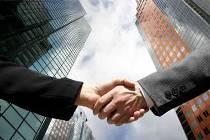 According to the monthly deal report of VCCEdge, the financial research platform of VCCircle.com, the M&A deal value during April stood at $1.74 billion rose 57 per cent over the same period last year.
The deal count also witnessed an upward trend and increased to 49 in April compared to 28 in the year-ago period.
"On a month on month basis deal value in Apr'10 was substantially lower than that in Mar'10. In terms of deal value, the monthly activity began with slow momentum in February, accelerated in March to reach $14.1 billion.
However, this pace could not be maintained and activity recorded a dip at $1.74 billion in April," the report said. The month of April saw as many as 25 domestic deals worth $815 million, compared to 13 deals worth $603 million in the year-ago period, the report said.
Besides, the number of outbound deals more than doubled from eight in April 2009 to 18 this year, the number of inbound deals although remained almost unchanged with five deals in April this year as against seven deals witnessed last year during the same time.
Larger deals ($50 million and above) continued their dominance and accounted for 87 per cent of total capital invested in April 2010. DLF- DLF Assets deal, where the country's one of the largest listed real estate firm DLF hiked its stake in a group company, DLF Assets, to 91.9 per cent for $694 million, was the largest transaction for the month.
Apart from the DLF deal, some of the other major M&A transactions in April include Jindal Steel & Power $500 million buyout of Abu Dhabi-based Shadeed Iron & Steel Co and Godrej Consumer Products' acquisition of Indonesia based PT Megasari Mamsur for $269 million.
Meanwhile, a sector wise analysis shows that finance, manufacturing and consumer goods were the most targeted sectors, as these segments attracted deals worth $694 million, $526 million and $303 million, respectively.
In terms of deal volume, the most active sector was information technology, which cornered 10 deals followed by consumer goods maker and manufacturing with eight deals each in April 2010.