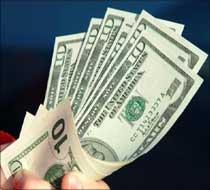 Overseas investments by Indian companies stood at $1.46 billion in December 2011, with hospitality major Indian Hotels and diversified player Binani Group emerging as major investors.

As many as 415 overseas investment transactions were carried out by various companies in December.

Outbound foreign direct investment last month was almost 47 per cent less than the $2.74 billion in November, according to the Reserve Bank data released on Wednesday.

Experts attributed the month-on-month decline to the global economic slowdown and said such difference in monthly outbound foreign direct investment is normal.

Indian Hotels committed $93.47 million to its Hong Kong-based wholly-owned subsidiary Taj International Hotels, which is engaged in retail, wholesale, restaurants and hospitality services.

The company also committed $3.6 million to its US-based arm International Hotel Management Services, which is engaged in operations of similar
nature.
Binani Industries committed $47.01 million to its Luxembourg-based WoS, BIL Holding I Sarl, which is into financial, insurance, real estate and business services.
Binani Industries, along with group firms Binani Cement and Binani Zinc Ltd also made three other investments worth $510,000 during the month in its arms based in the British Virgin Islands, the US and Mauritius.

Tata Steel committed $35.33 million in Tata Steel Asia Holdings Pte, its WOS based in Singapore, which is engaged in financial, insurance, real estate and business services.

The company also invested $1.5 million in its Singapore-based joint venture Tata NYK Shipping Pte Ltd.

In the first nine months of the current fiscal (April-December), the outward FDI reached almost $25.3 billion.

While Indian companies are expanding overseas footprint, the FDI inflows during the April-November period (latest data available) also reached $22.83 billion.

In the last fiscal (2010-11), the FDI inflows crossed $19.43 billion.