B K Modi, founder of telecom major Spice Group, bought a penthouse in the prime Marina Bay business area in downtown Singapore, for about $10.5 million. That was in 2008, when the island nation's real estate market was struggling to cope with the ripples of the subprime crisis in the US.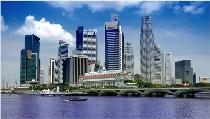 Two years later, Modi's investment has appreciated to close to $20 million, say property dealers.
Modi isn't alone to have hit the jackpot. In the last two years, several Indian companies have ventured into Singapore by acquiring small and medium companies at low prices. Moreover, last year, the fears of a debt crisis in Dubai further accentuated Indian interests in the rest of the Asian markets, as they have been traditionally major property buyers in the UAE.
In the last one year, many small Indian firms, like iron ore exporters, trading and shipping companies have opened offices in Singapore and bought property.
"Indians have been steadily investing in the residential market in Singapore, a major factor being increasing concentration of the Indian business community. The interest rates have also been low, at 2-2.50 per cent, which has led to rising investments," said Sandeep Choudhary, head of an investment advisory firm dealing in Singapore's property market.
The Asia-Pacific region saw the strongest growth in housing prices worldwide, an average rise of 17.8 per cent, for the year ended March, according to a report by Knight Frank. The top performers were the Asian economies of China, Hong Kong and Singapore, all recording an annual growth in excess of 24 per cent.
Hong Kong led the pack with 40 per cent, followed by Singapore at 35 per cent, according to estimates by property dealers in Singapore.
Thus, while globally investments in real estate declined by six per cent in 2009 in US dollar terms, APAC-invested stock grew eight per cent and topped $3 trillion for the first time, according to a latest report by DTZ Research.
Growth was driven primarily by China, and to some extent by India, as the report points out that India and China stand out with growth in invested stock of 33 per cent and 28 per cent, respectively.
Therefore, with China's decision to make its currency more flexible, some of the richest Indians might see their investment in the Asian property market further appreciating.
"A strong yuan could lead to speculative buying from overseas (like in 2007). However, the Chinese government is keen on controlling the price increases in residential property at the moment. As a result, the government is unlikely to allow the Yuan to appreciate rapidly to increase the bubbles in the property sector," said Ying Wang, director in Fitch's Asia corporates ratings team, Beijing.
"If the Chinese have more buying power, there could be speculative buying in the rest of Asia," said Choudhary.
"Arguably, the most noticeable trend in global house prices is the ease with which the performance of global housing markets can now be grouped by world region. The top four positions in our rankings are all occupied by Asia-Pacific locations, while Europe dominates the bottom half of the table," according to a recent statement by Liam Bailey, head of residential research, Knight Frank.
Interest rates of as low as 2-2.5 per cent in Singapore, at a time when other Asian economies like China and India have tightened real estate lending norms, have also been a favourable factor for Indian investors. Notably, Hong Kong is turning out to be more expensive than Singapore.
While property price in Singapore is close to S$1000 per square feet, that in Hong Kong is S$3000 per square feet, said a property dealer.
Certainly, if property dealers and consultants are to be believed, it appears that B K Modi will have more to cheer for in the near to medium term.