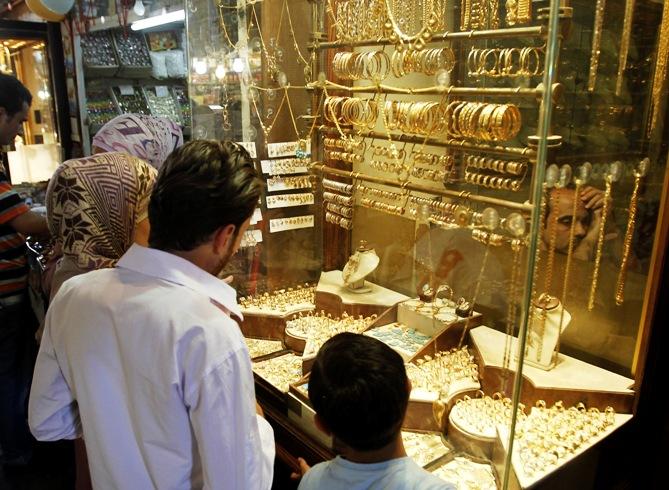 Gold discounts in India, the world's second-biggest consumer, widened this week as dealers struggled to offload stocks amid sluggish demand.
Dealers were offering discounts of $6 to $8 an ounce to the global spot benchmark this week, compared to discounts of $4 to $6 last week.
The value of India's August gold imports jumped 140 per cent from the same month a year ago to $4.96 billion, the trade ministry said this week.
This followed a 62 per cent jump in imports in July from a year ago to $2.97 billion.
Imports have been on the rise due to lower prices and expectations of robust purchases, but demand has been soft due to a weak monsoon.
"Anticipating robust demand everyone in the supply chain was buying last month. But demand is not as good as expected," said Daman Prakash Rathod, director at Chennai-based wholesaler MNC Bullion.
"Now everyone is trimming purchases. Imports will be much lower this month." Industry officials say poor monsoon rainfall has raised concerns over rural demand, which accounts for two-thirds of India's total gold demand.
Rains have been 16 per cent below average so far over the four-month monsoon season that ends this month, due to an El Nino weather pattern, which can lead to scorching weather across Asia and east Africa but heavy rains in South America.
"I am offering a discount of $7, but still there are fewer buyers in the market," said a Mumbai-based bank dealer.
Demand during the key festival period in the last quarter of the year may remain subdued, he said. Slack demand from India could hurt global prices, already reeling from uncertainty over a looming U.S. interest rate hike. Elsewhere in Asia, gold purchases remained moderately good, dealers said. In top consumer China, premiums rose this week to $5-$6 an ounce from around $4 last week. In Hong Kong, premiums were largely unchanged at $1.10-$1.30 an ounce.
"The peak season is coming soon in India and China. We should see demand emerging gradually in the next few weeks," said Ronald Leung, chief dealer at Lee Cheong Gold Dealers Ltd in Hong Kong.
"For now, people are waiting to see how prices move after the Federal Reserve meeting and the dollar strength."
The U.S. central bank is due to make a policy decision on interest rates on Thursday, with a hike in rates expected to dent bullion prices.A significant drop below $1,100 an ounce could trigger strong buying interest in Asia, traders have said.