Experts tracking the treatment of TB are excited about the TB drug, but warn of the unregulated use of drugs in India leading to growing incidence of drug resistance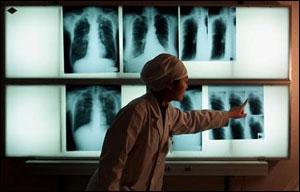 Sirturo, the bedaquiline drug for treating multidrug-resistant tuberculosis, or MDR-TB, which was recently approved by the US Food and Drug Administration or FDA, is scheduled to be released in the US this month, but may not be launched in India at least until next year. The Indian Health Minister recently told Parliament that research institutes in the country were testing anti-TB drugs including bedaquiline as part of global trials.
There are also lingering concerns over the culture of misuse of pharmaceutical products in India, which has, in the past, led to other drugs becoming increasingly ineffective.
While the developers of Sirturo, Janssen Pharmaceuticals, a division of Johnson & Johnson, say India is one of the top priority countries for the drug's use, the regulatory process in the country is not very transparent, according to company officials. In an interview, Myriam Haxaire-Theeuwes, Compound Development Leader of Sirturo at Janssen, said their plan was to prioritise the regulatory submissions in India in the first half of this year. "Based on our experience with regulatory timelines in India it would certainly take more than a year to envisage the approval of a product, but we don't want to speculate," she added.
Regulatory applications have already been submitted in China and South Africa, two other countries with a high burden of MDR-TB, while the submission in Russia is also scheduled for the first half of this year. India, China, Russia and South Africa account for 60 per cent of the world's MDR-TB cases, according to the WHO, while India and China account for 40 per cent of all TB cases.
There are estimated to be around 630,000 patients worldwide with MDR-TB, a condition resistant to first-line or commonly used anti-TB drugs. Indian doctors have also reported cases of Extensively Drug Resistant or XDR-TB, and cases of completely drug resistant TB reported by a Mumbai hospital last year received worldwide attention.
Experts monitoring the incidence and treatment of TB in India are excited about the new drug, the first in 40 years. But they have long warned about the unregulated use of drugs in India leading to growing incidence of drug resistance, and fear that bedaquiline could also become ineffective if used improperly in India.
"My biggest concern is you're introducing a brand new TB drug into one of the most unregulated chaotic drug markets you can see anywhere in the world," says Madhukar Pai, Associate Professor at McGill University in Montreal, Canada, and founder of the Pai Tuberculosis Research Group at the university. Pointing out that antibiotics can often be freely purchased without prescriptions in India, and that they are often prescribed by non-allopathic practitioners and even dispensed by chemists on their own, Pai says, "In this environment if this new drug is introduced and if people start using it for everything from diarrhea to a cough or skin infection or who knows what and if it's not done according to the right guidelines, we could very rapidly lose this new drug to drug resistance which would be pretty disastrous."
Haxaire-Theeuwes agrees this is a problem unique to India, where there is "very little oversight or adherence to international or even national treatment guidelines" and says Janssen will collaborate closely with Indian authorities to ensure appropriate use of bedaquiline. One way to prevent it from being available freely or used wrongly is to ensure that it's not made available in virtual monotherapy or alone, but only as part of a regimen with three or four active drugs, she said.
According to experts, the main reason for misuse of TB drugs in India is that the country's system allows for treatment of the disease through both the public and private sectors. "TB is normally thought of as a public sector disease," says William Wells, Director for Market Access at the Global Alliance for TB Drug Development in New York. In most other countries with a high incidence of TB, even if the disease is diagnosed in the private sector, treatment is done largely in the public sector, which gives health officials greater control over the supply of drugs.
The normal course of treatment for drug-sensitive TB is six months and could be as long as 18 to 24 months for MDR-TB. Often patients may start feeling better after the first few months and stop taking their medicines. Wells points out that it's easier to ensure compliance to the complete regimen through the public health system, while reminders and follow-ups may not be available in the private sector. When a patient stops treatment midway, the disease often returns, and worse, with drug resistant strains.
While Sirturo received accelerated approval from the US FDA, it is still undergoing Phase 3 clinical trials, which are expected to last about five years. Global Alliance for TB Drug Development is also testing a new first line regimen including bedaquiline for drug sensitive TB, which would cut the treatment duration from six to four months.